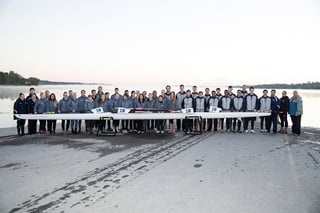 4 a.m. wake up calls. Six days a week. Catching crabs, Power 10, coxie, and Head of the Trent.

The words above are just some of what you'd learn when trying out for or being a part of the Ontario Tech University Ridgebacks rowing team, which just celebrated their 10th season at Ontario Tech this past fall, and was among the first athletic programs established at the university.

"I wanted to be involved outside of the classroom, and at the time, Ontario Tech only had tennis, rowing and hockey," explained rowing team alum and current team manager of the rowing team, Christie Atwood. "Rowing is a unique sport so the fact that Ontario Tech offers it makes the athletic program just as unique."
Athletes interested in trying out for the rowing team have two options, which include a varsity tryout camp and novice try out camp. Varsity camp takes a week, where athletes who have already competed on a competitive level must past erg standards and a water evaluation. Novice rowers participate in a preliminary tryout, consisting of a two-kilometer run, a 500-meter erg test and on-water skills assessment. Tryouts typically take place in late August for varsity and early September for novice athletes.

Although the idea of trying out for a potentially 50 person team is a little overwhelming for a novice rower at a different athletic level than other students, it's an experience unlike many others for students.

"Just try out for the team!" said novice rower and masters program student, Adele Hedrick. "Even if you have no sporting experience in your life, this is your opportunity to learn a sport from scratch. It offers a chance for you to be a part of something bigger than yourself, and to gain a connection with the campus unlike any other."

Unlike other sports available at Ontario Tech, the rowing program offers varsity and novice teams for new and experienced rowers. The novice teams allow interested students to be introduced to a new sport and allow them the chance to continue in future years on the varsity team.

"What made me try out was that you weren't required to have prior experienced," said Nuclear Engineering student and novice rower, Christian Langevin. "Other sports team don't have a novice team, and you could be at any physical level to try out."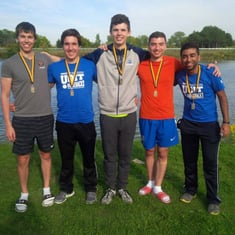 As any athlete expects when they become a member of a sports team, Ridgeback rowers must stick to a six day a week team practice and do an independent gym workout. Team practices take place at the Durham Rowing Club, a 20-minute ride from the north Oshawa location, at 5 a.m.

"I've always been a bit of a morning person," said rowing alumni and rowing coach, Jonas Ziuatis. "So, the prospect of waking up every morning and seeing the sunrise was a no-brainer."
For further information on the rowing team, visit their official Facebook page or their portion of the Ridgebacks official website.