In the Ontario Tech Ridgebacks program, it's important to create a community where students can excel in their studies and also as athletes. However, the Ridgebacks' impact reaches far beyond the classroom or athletics competition as the importance of being involved in the community is also emphasized to all players.
"With our Ontario Tech sports programs it's not just important to play your sport," explains women's soccer head coach Peyvand Mossavat, "The program bridges the gap between Ontario Tech University and the community, and we always encourage players to give back to the community whenever they can."
When Ridgebacks go above and beyond their call of duty to the community, they can be recognized for their accomplishments.
That was the case with fourth-year Nursing student and midfielder on the women's soccer team, Jessica Mithrush, when she was awarded the 2013-14 East Division Community Service Award for her contributions during last season.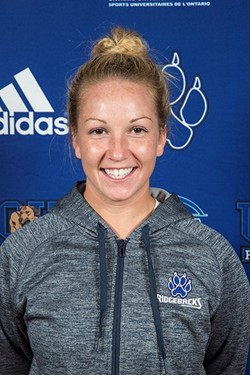 Mithrush arranged for the entire women's soccer team to volunteer at a local soup kitchen; held a soccer equipment drive for underprivileged children in Africa that included asking for donations of cleats, jerseys and balls; and organized free soccer camps before Ridgeback games for 30 to 50 kids in collaboration with the Durham Police Foundation. Mithrush led these initiatives while keeping up with her studies, practices, games and working part-time.
"I wasn't expecting the award," Mithrush remembers, "I didn't expect recognition, that's not why I did it. But it did feel nice to be recognized."
The soccer camps before the games are something Mithrush hopes will continue once she graduates, with the help of grants from the Durham Regional Police.
The Ridgebacks program offers players a number of ways to be involved with the community with their own outreach programs, including the "School Is Cool" tour. The program allows Ridgebacks to visit elementary schools in the Durham Region to speak with kids from kindergarten to grade 8 about the importance of education, physical activity in their daily lives and living a healthy lifestyle.
"Giving back and being a part of the community is not just for athletes, but everyone!" explains Ontario Tech's Sports Information and Marketing Coordinator, Scott Dennis, "Making an impact and taking the lead is something athletes do on the field and off of it as well."
If you are interested in becoming involved with the Ridgebacks and their many community outreach programs or know of a program that would benefit from the Ridgebacks' involvement, please contact Scott Dennis at scott.dennis@dc-uoit.ca or by phone at 905.721.2000 ext. 2784.