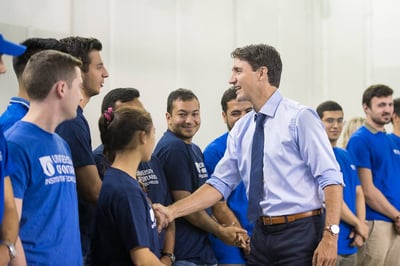 Canada's Prime Minister has announced some exciting news for both future and current students at our university: the Automotive Centre of Excellence (ACE) will be receiving $9.46 million dollars in funding!
Justin Trudeau and Navdeep Bains, Minister of Innovation, Science and Economic Development, visited our campus today to make the announcement.
With this funding, our engineering students will be able to enjoy even more valuable learning opportunities in ACE, our one-of-a-kind research facility.
The addition of the Moving Ground Plane – a large belt that simulates a moving road under a vehicle – will also be benefiting from the new funding.
This money will not only help improve ACE, but further our students' ability to excel when preparing for their future careers.
All about ACE
If you're new to ACE, it houses one of the largest climatic wind tunnels on earth. The tunnel can replicate any weather condition, including a scorching rain shower in the jungle or the frosty freeze of a storm in the arctic.
The features and possibilities created by ACE allows for invaluable testing to be completed on both automotive and aerospace products. But it's not just all about cars – athletes as well as the film and TV industry are able to use our ground-breaking facility.
As an engineering student at our university, it's not hard to see the value of having a facility like ACE right on campus.
Want to see our Automotive Centre of Excellence for yourself? Check it out in our virtual tour!