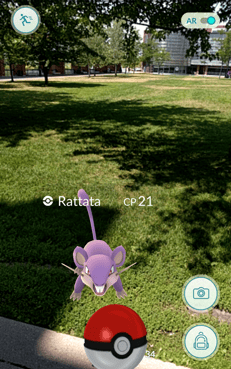 Since Pokémon Go was officially released in Canada a few days ago, the Ontario Tech campus has been abuzz with students and visitors scouring the grounds for all kinds of Pokémon. To give you an idea of how big this game has grown over a few short weeks, just take a look around major areas like schools, churches or businesses and you will be able to see a number of players hanging around catching Pokémon and grabbing in-game goodies from the Pokéstops. These Pokéstops tend to pop up wherever there is a public park, plaque, art installment or building, so it's no wonder the campus has been so busy with players.
If you've been playing since the game was officially (or even unofficially) released, you've probably noticed how many of these Pokéstops exist on campus. To better understand what these Pokéstops actually are outside of the game, I've done some research for you. So, the next time you're at a Pokéstop with a friend, trying to grab some Pokéballs, potions or Razz Berries, you'll be able to tell them what that Pokéstop actually is.
Wire horse art
Also known as True Power, this art installation created by Geordie Lishman can be found in the Energy Systems and Nuclear Science Research Centre (ERC) building. Lishman's installation is described on the plaque as a sculpture that was "inspired by his interest in sustainability, the production of energy both seen and unseen, and by legendary Canadian sports hero Northern Dancer, whose final resting place is located north of this building at Windfields Farm."
True Power was unveiled in 2011 at the same time that the ERC was, and "was made possible through the generosity of 21 local individuals, families and organizations that support placing art in public places to promote a creative community and economy."
Ontario Tech Library
This one is pretty self-explanatory, as no campus is complete without a library. But, did you know that ours is award- winning?
Shared with Durham College, the Library opened in October 2004 and was designed by Diamond + Schmitt Architects Inc. In 2006, the library earned an Interior Design Award in the Academic Libraries Over 30,000 Square Feet category at the Library Interior Design Competition, a competition sponsored by The American Library Association (ALA) and the International Interior Design Association (IIDA). Pretty neat, huh?
Ontario Tech promenade
You might know the promenade as the covered walkway on the west side of Polonsky Commons that extends from the Library to the Science building. This Pokéstop can be found where the commemorative plaque is, recognizing the Region of Durham for a generous donation to Ontario Tech in 2008 as well as their continued support of students' success.
Ontario Tech Wind Tunnel
The ACE Climatic Wind Tunnel is one of the coolest facilities at Ontario Tech, where products of all types can be tested in any kind of weather simulated inside the tunnel, like wind speeds reaching 300 kilometres per hour or temperatures that range from -40 to +60°C. Throughout the year, the ACE holds unique events, like climatic Zumba or yoga, giving guests the chance to dance and stretch their way through four seasons in the span of a few hours.
Want to see more of our campus? Check out our virtual tour!
S.E Lovell and family plaque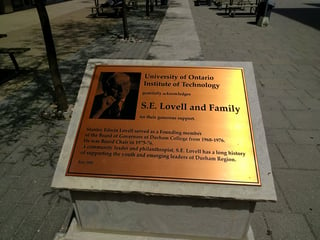 Located outdoors in between the Business and IT Building and the Science Building, this Pokéstop is a plaque dedicated to Stanley Edwin Lovell and his family. As stated on the plaque, he was "a community leader and philanthropist" and had "a long history of supporting the youth and emerging leaders of the Durham Region."
What you might not know about S.E Lovell is that he was the CEO and owner of Lovell Drugs Limited and he and his family gave generously to Ontario Tech in the university's early years. Unfortunately, S.E Lovell passed in 2010, but he left behind an amazing legacy of community involvement and support.
Gate to the Future
While the Gate to the Future sculpture is not a Pokéstop, it's actually a gym in the game, and is an important part of Ontario Tech's history. On Ontario Tech's 10th anniversary, the sculpture, designed by Quebec artist André Fournelle, was unveiled. It's meant to "serve as a visual reference and campus focal point, embodying the harmonious relationship between art and technology, form and function."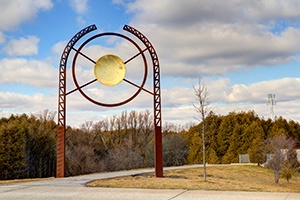 The Gate to the Future is made up of several design elements:
Archway - symbolizes the gate to the future
Central Vertical Cupola - means transformation
External Cupola - represents the radiance of research towards knowledge
So, now you know a little bit more about the campus you're studying and catching Pokémon at. What have you caught so far? Let me know in the comments!