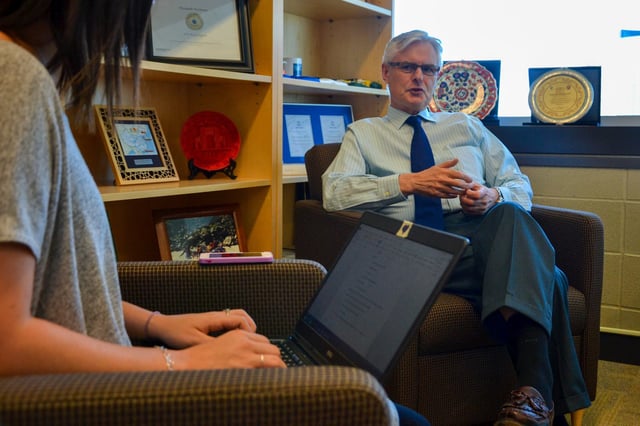 Ever wonder what kind of advice the President of Ontario Tech University would give to first-year students? I got the chance to ask, and here is what President Tim McTiernan had to say.

"Don't panic. Keep on top of your assignments, and ask for help if you think you need help. People are there waiting to lend you a hand."

Dr. Tim McTiernan is from Kilkenny, Ireland where he earned his Bachelor of Arts in Psychology and Philosophy at Trinity College, followed by a Master of Arts degree and PhD in Psychology from the University of British Columbia. He has an impressive resumé filled with experience many academics dream of, such as obtaining credentials from both Harvard and Massachusetts Institute of Technology (MIT).

Tim's background includes an array of fieldwork involving experience with the Yukon Government and the Ontario Government as a Deputy Minister. I asked Tim to reflect on his past to find out what his proudest moment was.

"It was a magic moment, at midnight on March 31, 1990 in Ottawa. I was part of the Yukon government negotiation team at the table with the federal government and Yukon First Nations. That night we finished negotiating the umbrella final agreement for the Yukon First Nations land claim. That was a magic moment -- sort of a Super Bowl moment."

There is a clear level of commitment that Tim possesses, which has driven Ontario Tech University to become such an incredible success in such a short amount of time. Ontario Tech University has so much to offer students, from both a community and academic perspective. I asked Tim what he thought set Ontario Tech University apart from other universities, and his words perfectly reflected the atmosphere, values and commitment Ontario Tech University has when it comes to making every student's experience unforgettable.

"I've spent the last five and a half years thinking about this, and I think that one of the things I've found when talking to students and graduates, is the sense that Ontario Tech University is a small, personal community where students get to know their professors and the staff. We've grown phenomenally. We have a great group of students, who feel that they can get personal attention when they need it, and I think that is magic."

Ontario Tech University is a young, vibrant and growing place of development - where students can flourish, where professors care, faculty are invested, and even the president can make time to discuss his thoughts on the future of Ontario Tech University.

"I hope to see Ontario Tech University as a very attractive, focused and specialized university, still with its science and technology focus, but with a good set of social science, humanities, business and education programs. I hope to see Ontario Tech University become a place for students who want a rich education that provides them an opportunity to have a whole array of learning experiences on and off campus, internationally, and the opportunity to learn and figure out what they want to do, and to prepare them to go out and be able to do it with a standing start."

It was truly an honour to sit down with Tim McTiernan face-to-face, and have the chance to discuss his past experiences, his proudest moments and his hopes for the future of Ontario Tech University - while learning more about his Irish roots.

Ontario Tech University is a community. The staff, faculty and students go above and beyond to make the experience amazing, where everyone, including Tim McTiernan, are invested on a very personal level.
Photo credit: Emily Rowsell