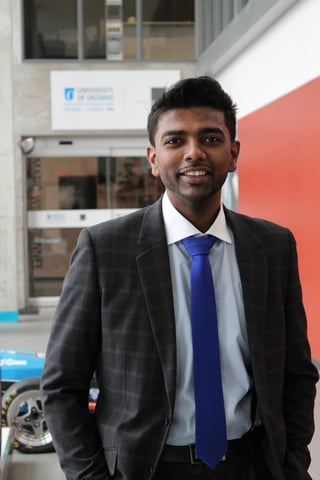 Theeben Jegatheesan graduated from Ontario Tech University with a Bachelors (Honours) Degree in Criminology and Justice and is now an academic advisor for the Faculty of Engineering and Applied Science at Ontario Tech University, providing positive services to help students navigate their way through their academic careers.
"I gravitated towards academic advising from my experience with my own academic advisor when I was a student. She made a profound impact on my life, both academically and professionally. My academic advisor provided me with various opportunities to engage in student life and to get involved on campus. From this experience, I realized how much I love working in a student-focused environment. I love the ability to help students overcome challenges and difficulties, to help navigate the various transition stages of university life, from the first year to graduation.

Academic advisors are the main point of contact to assist with your transition to university life and to support your success during your time at Ontario Tech University. In a nutshell, academic advisors provide students with timely information and accessible resources to assist them with understanding the academic, social and organizational culture of Ontario Tech University. We offer recommendations and resources to make sure that students have the tools they need to succeed. We can help with course planning, degree progression, connecting students with campus services and resources for additional assistance, discuss issues that may impact students' academic performance, assist them with course selection and electives, help students understand academic policies and procedures.

The best part of being an academic advisor is seeing the high-energy, passion and the dreams of incoming students, and maintaining it as the same high-level energy as they graduate. Also, sharing their excitement and passion and seeing that they can overcome any adversity or challenge that hinders their path of success. Students' energy and excitement is what motivates the academic advisors to move forward every day.

I wish more students knew about the wide range of services that we offer. We offer high quality of service and allow students to gain a meaningful experience out of their education at Ontario Tech University. It's never too late to ask for help or to seek the resources available for you, whether students are on academic standing or on the President / Dean's List, they can always find resources available to them to assist their experience at Ontario Tech University. The only way we can help students is by you taking the first step and asking for assistance. "