As you may or may not know, the Oshawa Centre (OC) has been working away at bringing a new and improved shopping centre to the public over the past little while. Recently, I had the pleasure of talking to Charly Wellings-Gray, the Assistant Marketing Director for the Oshawa Centre and Ontario Tech Commerce graduate, on the recent expansion and why Oshawa residents should be excited.
"The Oshawa Centre stands alone as the largest super-regional shopping centre in the eastern portion of the GTA at 1.2 million square feet," says Wellings-Gray. "With more than 200 retailers, the OC creates a unique shopping experience with sought-after brands including Aritzia, Victoria's Secret, Sephora, Lululemon, Pandora, Town Shoes, Saje and Roots. Currently undergoing a $230 million redevelopment and expansion, the OC will introduce 260,000 square feet of new retail space upon completion this fall, adding 60 new stores and a 1,000-seat food court. With its powerful retail mix, the OC consistently remains amongst Canada's top sales performers, attracting over 9 million shoppers annually."

Originally built in 1956, the Oshawa Centre has been a huge part of the community for 60 years. The expansion endorses the ever-growing community that Oshawa has become and will continue to be. This expansion is only part of the thriving investments that is making Oshawa one of the fastest-growing communities in the GTA.

The renovations alone provide a large number of construction and retail jobs within the community, creating more sustainable and economic prosperity. This expansion also brings forth an entirely new attraction, influencing tourism, and the desire to settle down in the Durham Region, rendering Oshawa as a dominating community that is becoming highly sought after.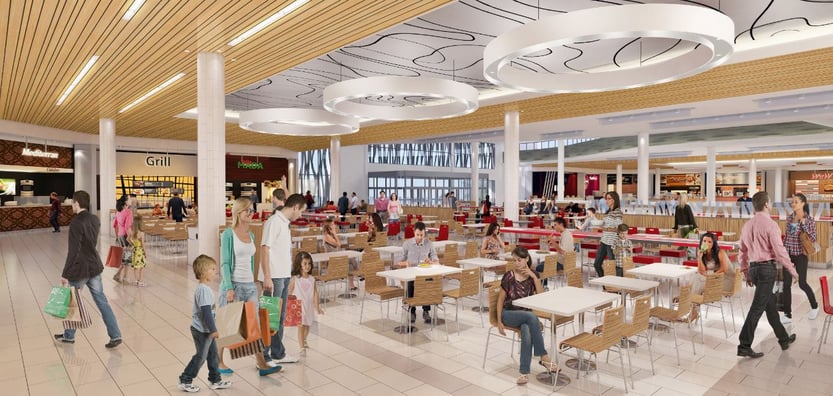 Not only is the OC thriving with its trendy up-scale fashion brands, new restaurants and structural innovation, but it has also been renowned in its environmental leadership and sustainability.

BOMA BEST is an environmental building standard accreditation company that provides certificates to outstanding commercial buildings for their sustainability efforts. The Oshawa Centre was awarded a Level 4 Platinum certification, the highest level achievable. This is awarded only to the buildings that have demonstrated the best practices and received anywhere between 90 to 100 per cent on the assessment.

Once the $230-million dollar redevelopment is completed, the Oshawa Centre will take up about 1.25 million square feet.
Some fun facts about the new expansion and what you can expect:
There were 160,000 cubic metres of earth excavated for the new expansion. This is approximately 70 Olympic-sized swimming pools.
There were 220,000 square feet of new floor tile installed in the existing mall and new expansion. This is approximately 4 full-sized football fields.
The new expansion roof membrane (260,000 sq. ft.) will be white and gray in colour to minimize the amount of solar heat gain which shows an annual energy bill savings of 20 to 40 per cent during the warm summer month. This roof assists in reduced air pollution and greenhouse gas emissions generated in the production of electricity.
Electric vehicle charging stations will be added to the parking area.
New bike lanes have been installed throughout the property.
153-metre wide living wall that acts as a privacy screen, sound barrier and visually pleasing feature for shoppers.
Want to win a $100 gift card to the Oshawa Centre? Comment below with 1) what store you'd love to see in the Oshawa Centre and 2) the Ontario Tech program you're enrolled in OR program(s) you're interested in for your chance to win!*

*A winner will be randomly selected from the comment section and announced on the blog on April 29, 2016. Please be sure to include an accurate email address when posting your comment. (Email address will not be published.) Contest is for prospective and current Ontario Tech students only.