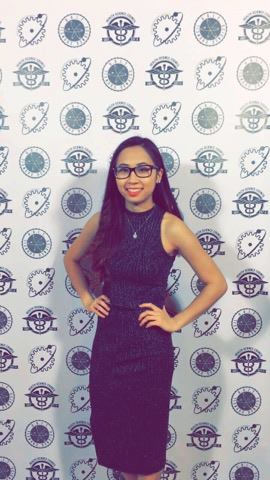 Jessica Nguyen is a second-year Health Science student studying Kinesiology.
What do you like the most about your education at Ontario Tech University?
I can definitely say that the best part of my education at Ontario Tech University is the laboratory/practical aspects. In first-year biology and chemistry, I did lots of titrations and dissected different kinds of fish. However, the fun started when I learned and performed different types of tape jobs for the ankle, thumbs, arms, and knees in my Intro to Injury Management course. While learning how to tape injuries was fun, my Exercise Physiology course also gave me the same excitement during my labs. For one of my labs, we got to cycle in our famously known ACE Wind Tunnel that can change into any type of weather condition we wanted – snow, rain, hot, cold, etc. For the time I was there, I cycled for a straight half hour in 35 degrees to see how my body responded to heat. I can definitely say a lot of sweat was involved. Overall, these are just some of the moments that I love most about my education at Ontario Tech University.
What do you think is most unique about your program, or makes it better than similar programs at other universities?
The most unique part of my program would definitely have to be the lab components. We have a small laboratory specifically designed for Kinesiology students. In there, we have skeletons to learn about all the muscles and bones. We also have a lot of sports equipment – bikes, treadmill, etc., where we get to perform different exercise assessments. As mentioned earlier, we also get to use the ACE Wind Tunnel to perform some of our labs.
How has your time at Ontario Tech University shaped you or made you grow as a person?
I can't even begin to explain how my time at Ontario Tech University has shaped me to become the person that I am today and will continue on to be. Some of my major highlights would have to be working as a Student Association Promotions Crew, Ontario Tech University official Tour Guide, Ontario Tech University Ambassador/Orientation Leader, and Ontario Tech University Health Science Council Executive. In all honesty, the list goes on. However, I cannot forget about all of the friends, upper-year students, co-workers, TAs, and professors who have helped me along the way. I have no doubt that every experience or person that I encountered at Ontario Tech University made me the person that I am today.
Do you participate in any clubs, societies or on-campus jobs?
Graduating in high school, I was literally involved in everything in school. From Vice President of my student council to being in the social justice club, I wanted to continue my involvement in university. I first started as the Student Association Promotions Crew where I promoted students events such as CampusFest around campus. My next experience was being a Ontario Tech University Ambassador/Orientation leader where I could help transition first-years into university. Being a Link Crew Leader for my entire high school career, I knew that I wanted to continue this role when I entered university. Leading to my next experience, I became Vice President of Ontario Tech University Health Science Council. I did some really wide-scale events to increase student life for Health Science Students. Recently, my council and Science council hosted a 20k Gala event at the Ontario Science Centre for all the students. I can definitely say it was stressful to plan, but worth every moment! Finally, I became an official Tour Guide for Ontario Tech University – which has been one of my most amazing experiences. I get to talk about my experience and show upcoming students what Ontario Tech University has to offer. With this, it has also given me the opportunity to work closely with the Registrar's office and represent the school at the Ontario Universities' Fair (OUF) or Open Houses!
If you could sum up Ontario Tech University in three words, what would they be?
Supportive, welcoming, and resourceful!