Whether it is battling through the cold and flu season, discovering a new way to support that nutritional New Year's resolution, or getting through muscle aches, pains and strains, staying healthy during the school year is paramount to achieving your academic success!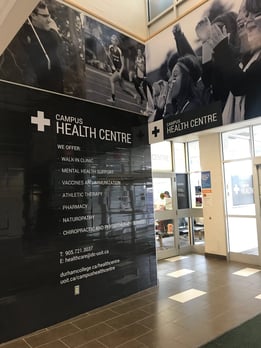 Today, this Ontario Tech University Spotlight blog post will discuss and highlight the benefits and aspects of the
Campus Health Centre (CHC)
!
Getting connected with your on-campus student health services can be a proactive approach to help you maintain optimal health in both a mental and physical way.
Housed in the Campus Recreation and Wellness Centre (CRWC), the CHC is open from Monday to Friday during 9 a.m. to 4:30 p.m., and serves students on a walk-in or appointment basis by calling 905.721.3037 or by stopping by to arrange in-person.
Note: An appointment is considered a no-show if you did not attend your scheduled appointment and did not cancel the appointment at least one hour before its scheduled start time. There is a $40 fee for all no-shows. Cancellation will be accepted over the phone or in person only.
The CHC offers a variety of services that are confidential and comprehensive, and their professional team of chiropractic, naturopathic, medical clinic and orthotics practitioners are available to assist you in managing your healthy lifestyle.
Note: Some of these services are not covered by the Ontario Health Insurance Plan (OHIP) or other provincial health insurance plans. You will have to pay for these services at the time of your appointment.
When it comes to questions that you might have with your respective health coverage, it is important to learn about which specific and respective plans that your coverage is provided under. To learn more about this, please visit the health coverage information page.
In addition to providing in-person one-on-one services, the CHC also provides references to many helpful community website resources related to contacting assistance for mental health, sexual violence and assault, family and children's services, and many more different community organizations.
In conclusion, I would wish to tell all of my readers, whether you are in your first year of university, final year, or are completing further studies, making your health and wellness on-campus a priority and something that you regularly seek to manage can be a direct factor in helping you achieve success in your studies and beyond. Learn and discover about your health services as they are there to help you become and maintain the best you that you can be!
Be sure to follow the DC/Ontario Tech University Campus Health Centre on Twitter!