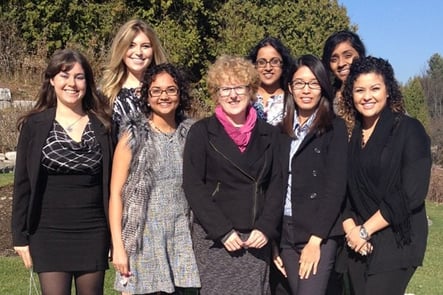 "Connecting students to the careers of their dreams; one appointment, one workshop, and one career centre event at a time."
In case you're wondering where such an amazing mission statement would come from, look no further than an inspirational leader on Ontario Tech University's campus, the one, the only, Anne Coulby!
Anne is the Internship and Co-op Coordinator at the Ontario Tech University Career Centre for the Faculty of Engineering and Applied Sciences (FEAS), and the Faculty of Energy Systems and Nuclear Science (FESNS). She is someone who I have seen and worked with firsthand, who lives by that mission statement. She works incredibly hard each and every day to support, assist, and prepare many Ontario Tech University students for the careers of their dreams.
Anne believes that Ontario Tech University has a distinct and unique internship and co-op program, and that the program and services that help to provide it relate to what makes Ontario Tech University an industry-leading and experiential learning environment.
"It is work to get a job. Many students are busy enough trying to get through midterms and everything else. Fortunately, we have many helpful Career Centre staff on each campus at Ontario Tech University and that can help to make all the difference on a resume, cover letter, and many other aspects of applying and interviewing for an employment position. I think the Ontario Tech University Career Centre is one of the best-kept secrets here on campus. We're here to help, and we get as much joy when a student is successful in getting a job as the student does."
Anne brings a heightened level of enthusiasm and professionalism to her role. Over the past six years, she has helped to facilitate and establish strong industry-leading connections with employers who look to recruit, engage, and consider FEAS and FESNS students for internship, co-op, and graduate employment positions.
I asked Anne what day-to-day tasks she undertakes in her position to establish, build, and grow relationships between students and employers, and I think her answer perfectly summarizes the passion and commitment she has for expanding the wide range of student employment opportunities to the next level.
"I speak with many employers who are very motivated and excited at the idea of recruiting from our new and innovative university. Recently, we had our Engineering Reverse Career Fair, which is a really unique event where rather than having employers at the tables, the students set them up. It is like a science fair for grown-ups! The students of the two faculties (FEAS and FESNS) get to showcase their projects, experiences, and skills by getting to chat and present themselves to industry-leading employers who are recruiting students for internship, co-op and graduate engineering positions. In addition to this, through one-on-one appointments and group workshops that focus on resume and cover letter writing, behavioural interviews, and building networking skills, our team looks to provide crucial preparation to students so they have the greatest possible success in applying to and interviewing for the next step in their career journey."
Ontario Tech University is a university where the student experience is immersive and the integrated career experience provides an opportunity for students to live up to Ontario Tech University's call-to-action: challenge, connect, and innovate.
"Students are more than just their program. There are so many ways to build great skills by actively participating and being involved at Ontario Tech University, especially with interesting and cool research projects with professors such as working within the ACE Wind Climatic Tunnel. The Engineering Society is a group I frequently partner with and host workshops for where I get to meet and connect with so many new students who have dreams of pursuing work experience in their field. This inspires me to continue to doing the best I can to ensure students have as many opportunities available to them possible."
It was truly an honour to sit with Anne Coulby face-to-face, to reflect on her role and experiences. It is the services and opportunities that she helps to create for students that are important as they consider the benefits and opportunities that are possible when they know where to find and utilize helpful career resources on campus.
Be sure to drop on by the U5 Building in the Student Life Centre to drop on by to meet the Career Centre team. You can also log into the Career Centre's website and access helpful content and book a one-on-one appointment.
You can also access many more great and helpful student services such as the Student Learning Centre, Student Mental Health Services, Accessibility Services, and the Student Experience Centre. If you're studying on the downtown campus, be sure to check out such great services on the second floor of the 61 Charles Street Building. Book your one-on-one appointment with the services you need through the Student Life Portal today!