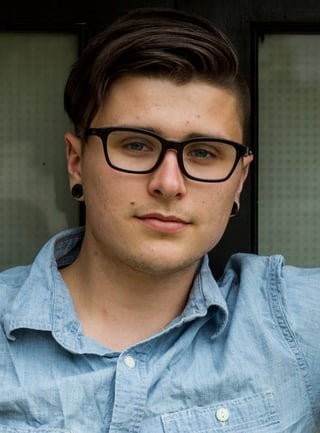 Sometimes it's tough to know what program you should choose when it comes to applying to or accepting an offer from a university. Hearing from graduates is a great way to get the low-down on what a program was like, and where that grad is now.
To give incoming students some perspective on the Faculty of Business and Information Technology and the Networking and Information Technology Security program, I sat down with Andrew Morari, an alumnus who graduated from Ontario Tech University in 2012, and who is currently working as a Senior Consultant in marketing automation technology at Mass Engines.
I asked Andrew to tell me about his experience at Ontario Tech University and how his education impacted his career and gave him the tools for success in his field.
"Ontario Tech University was easy to get to, I met great people, and there were lots of clubs, activities and sports to get involved in. The Networking and Technology Security program was awesome, having the ability to access a great networking lab during my networking classes was my favourite aspect of Ontario Tech University's technologically-enriched atmosphere. It was a very hands-on program with opportunities for accelerated learning, which would not be possible without access to this lab".
As an institution that is innovative, technologically advanced and always evolving, I wanted to know what this would mean for someone pursuing a career in the technological field, and Andrew offered up some great points about his education.
"Teamwork for sure prepared me for my career the most. The capstone project allowed us to work with different-minded students in different programs to work towards one goal."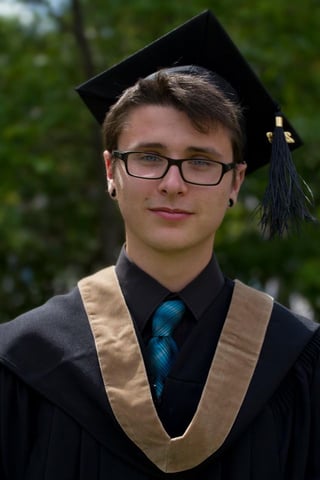 The Capstone course brings together teams of four or five students drawn from the three undergraduate programs in the Faculty of Business and Information Technology: Commerce, Game Development and Entrepreneurship, and Networking and Information Technology Security. These teams work to apply their existing skills and knowledge to real world situations and organizations that agree to partner with the student-led groups providing an excellent experience for both organizations in the community and the students.
So, the big question many undergraduates have once they graduate is "now what?". Or more importantly, "now what is it I can do?" I got to ask Andrew this question so many of us ask ourselves, and he gave insight on what exactly he does in his job.
"I work closely with various medium-sized to enterprise companies and their marketing departments to help them adopt marketing and sales automation technology to help them track their own prospective leads and contacts from point-of-contact/acquisition to point-of-sale and beyond. Tracking them gives critical insight into their own business to identify where leads and contacts are dropping out or moving along from acquisition to purchase. It's like helping them solve various puzzles troubling their business."
So what advice would Andrew give to students who are nearing the end of their program?
"Reach out to graduates from the same program as you. Network as much as you can with fellow students because these networks are what I use to continually move up in my career."
---
Photo Credit: Erin Barclay and Amanda Morari (graduation photo)