One of the core building blocks in the Ontario Tech University athletic program is community involvement. Recently, the Ridgebacks have called on fellow athletes, students, fans, staff and faculty to help a cause close to one Ridgebacks team member's heart.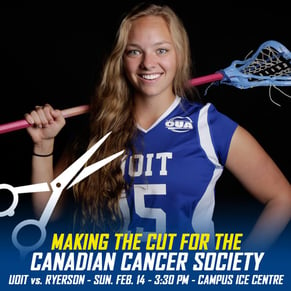 The support of the Ontario Tech University community can make a huge difference for a Ridgeback while fundraising during the school year, and could offer them a large platform to raise as much money as possible. This was the case for Carissa Giesbrecht, who plays attack on the women's lacrosse team. She raised money and donated her hair to the Canadian Cancer Society and their partner Pantene Beautiful Lengths this past February.
"I recently had a family friend pass away from cancer," she explained about her decision to cut her hair after five years of having it long. "Donating and fundraising were something within my means."

Giesbrecht cut her hair at the women's hockey game against the Ryerson Rams on February 14 and was able to raise over $1200 between her GoFundMe campaign and the donations that she received during the game.

"I was only aiming for $500," she explained happily. "I didn't think I would ever get close to what I managed to raise, and am very surprised at all the support I got."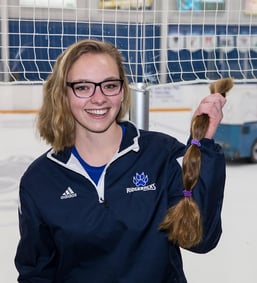 Along with her team members showing up to volunteer and donate treats on the big day, Giesbrecht also received support from the Ontario Tech University athletic department who went above and beyond what she had expected.

"I was really surprised at all of the support I got from them," Giesbrecht said. "I had messaged the athletic department to ask for help spreading the word and was just hoping for them to share a photo on social media. But, they turned it into a really big thing!"

The Ontario Tech University Ridgebacks community is a supportive one that encourages athletes to share causes close to their hearts, allowing them to spread the word as far and wide throughout the Ontario Tech University community as possible.