Autumn is here… the leaves are turning warm colours, vegetables are in season, and there's never too little time to bake. Here are a list of five festivals happening both here at Ontario Tech University and DC, and in our community. Take a look at where you can get you can satisfy your taste buds, soak up artistic and vintage treasures, and most of all enjoy what your neighbourhood has to offer.
1. Cinechats Film Festival: October 1st
Calling all movie enthusiasts, semiotic devotees and conversationalists. Cinechats Film Festival is here to showcase some of the world's most notable motion pictures and sometimes even world-premiere exclusive footage to you right here at Ontario Tech University and Durham College.
A collaboration between Ontario Tech University, DC, Artsforum and Durham Council for the Arts, Cinechats will be presenting films on a weekly basis, year-round on the Ontario Tech/DC Campus, Room C-113, G. Willey Bld., 2000 Simcoe St. N. For more information on the Cinechats Film Series visit the Artsforum website.
2. Fall Art Festival: October 2nd - 4th
Artists and art-lovers alike will gather this weekend as Oshawa Arts Association showcases the works of eighty of Durham's most talented painters, sculptors and designers. This 3-day show and sale will be held at the scenic location of Camp Samac on Conlin Road. If you would like to know more about the festival and how you can participate please visit the Oshawa Art Association events listing.
3. Newcastle Harvest Festival: October 3rd
The village of Newcastle is offering a whirlwind of activities from an antique car, train, and tractor exhibition to carnival games for all ages. Come out to get your apple cider, Oktoberfest or sausage fix! Or if you're feeling even more adventurous test your hamburger eating abilities in a contest, or see how easily you can sink your friend in the dunk tank. The list of fun continues, if you don't want to miss out, check out the Newcastle Harvest Festival page.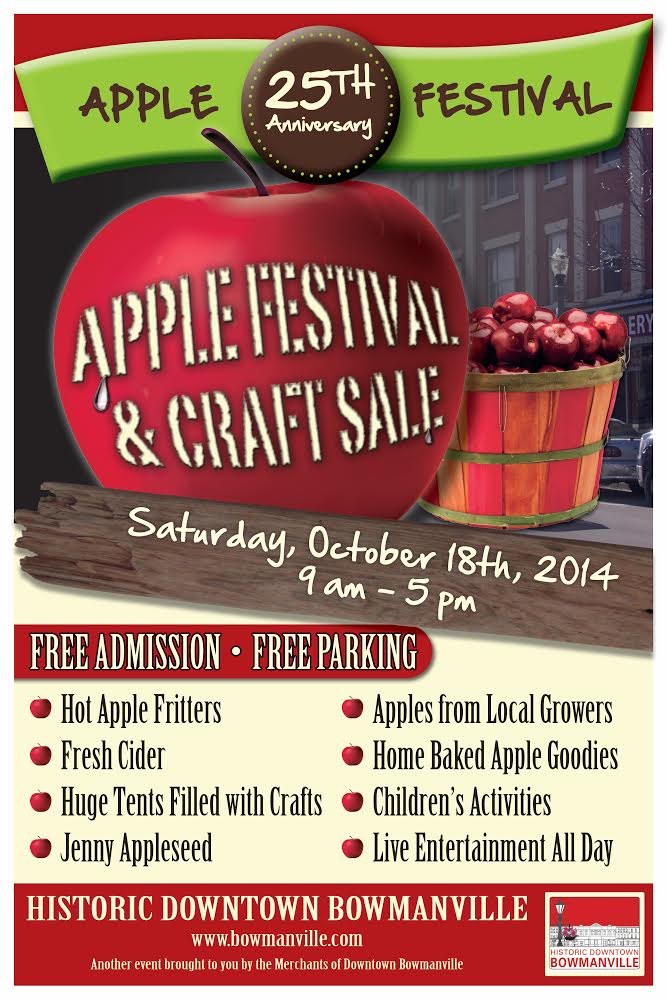 4. Bowmanville Apple Festival & Craft Sale: October 17th
In celebration of apple pie, apple crisp, apple cider, apple doughnuts, apple fritters and caramelized apples! Yes, that's right, an entire (not to mention – free) festival dedicated to our sweet love of apples. Come out to Bowmanville and enjoy a one-of-a-kind experience through old historic downtown where street vendors, local musicians, and carnival rides welcome you! Visit the Bowmanville Events page to see more of what Apple Fest has to offer.
5. Halloween Haunt Trip: October 30th
Halloween is just around the corner! What a better way get spooked than to grab a bunch of your friends to do it with you. The SA has arranged a Halloween Haunt trip to Canada's Wonderland for all students. Grab your tickets at the tuck shop for just $35, which includes a round-trip bus from the Student Centre at 5:30 p.m. and back around midnight. Suit-up for world class costumes and mazes you'll surely want to exit. For more information about this trip please visit the Student Associations webpage.