In my previous blog, I went over some of the services that Ontario Tech University has available to students to assist them academically, personally, and professionally. One of the amenities that I would like to give students more information on is the Career Centre. I believe this to be one of the most useful, but also under-estimated services offered to students by Ontario Tech University. Before doing research for this post, I admit even I did not know much about the Career Centre. I mean, I knew Ontario Tech University had one, but I'm only in third year and not looking for full-time work yet. How can they help me? I can tell you that I was very wrong in this way of thinking. So let me begin.
The Ontario Tech University Career Centre is part of Student Life and has a presence at both the North Oshawa and downtown locations of the university. At the North Oshawa location, the Career Centre is in the U5 building. Downtown, there are also career services offered to students out of 61 Charles Street. Now, what exactly does the Career Centre do, you ask? Allow me to elaborate:

Workshops
The Career Centre offers a variety of workshops throughout the year on a wide range of topics. Students can learn more about specific workshops being offered as well as sign up for a spot on the Student Portal, which can be accessed through MyCampus.
Career counselling
Students can make an appointment to meet with a Career Counsellor to discuss anything from job hunting techniques to what careers and job paths are best suited to your personal skills and interests.
Co-op and internship help
Students in the Faculty of Energy Systems (FESNS), the Faculty of Science and the Faculty of Engineering and Applied Science (FEAS) are offered assistance in finding co-op or internship positions. Students and potential employers are connected through the student portal, with the help of the Career Centre.
Career fairs
One of the most unique things that the Career Centre is involved in is a very different kind of career fair. It's called a Reverse Career Fair, and it is exactly what it sounds like! Instead of students attending a traditional career fair where employers have booths set up and they can learn about jobs available, students set up tables with posters and displays about themselves. The Career Centre then arranges for employers to walk through the Career Fair and interact with the students to learn about them. This Career fair has been run for Engineering students, and recently, the Career Centre partnered with the Faculty of Business and Information Technology (FBIT) for a Reverse Career Fair as part of the Capstone course.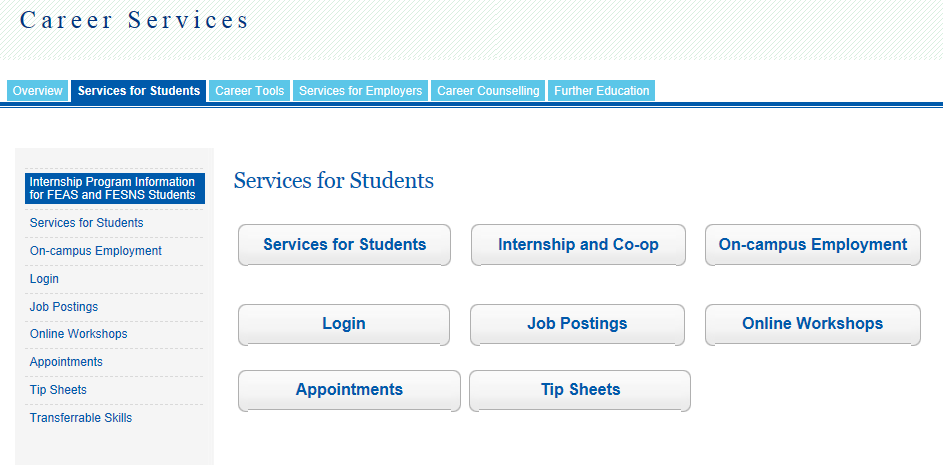 A screenshot from the Student Portal: Students can easily navigate their way through the many services offered online.
Interact with employers
Through the student portal, the Career Centre is able to connect students with potential employers. Recruiters contact Career Centre staff about job openings they have. Jobs are then posted on the portal, where students can search the postings and apply to jobs that suit their skills, experience and educational background.
So much more!
The Career Centre does all of these things, and so much more. Anything that they can do to assist students on their career path. From resume tweaking, cover letter advice, mock interviews, connecting with on-campus societies, networking help, the list goes on and on. I would advise all students, whether you are looking for a job or not, to visit the Career Centre website. As a member of the Career Centre told me, "All the education and job experience in the world won't help you get a job if you don't know how to translate it into making yourself a marketable young professional." And that's exactly what they are there to help with.
Bottom line
The main point that the Career Centre staff would like to leave you with is this: "You are not alone!" The Career Centre is only getting bigger and that's because the service is needed. Students come for a variety of reasons and at various stages of their career. Whether you have a ton of job experience, and are looking to have your resume tweaked, or you are searching for your first job and need help putting together a great cover letter, the staff of the Career Centre are there to help!