It's been five years since I applied to university for the first time, and I still remember exactly how confusing, overwhelming and stressful it can be. The key to success is starting early and doing lots of preparation and research!
When it comes to university applications, your first step is determining what program you're interested in taking. Not all universities offer the same programs, so you want to ensure that the schools you're looking at offer the right courses to get you one step closer to the career you want.
Once you have an idea of what you would like to study in university, the first place I would direct you to is to Electronic Info. eInfo is a fantastic resource that allows you to research Ontario universities based on program information, location, school and scholarships offered.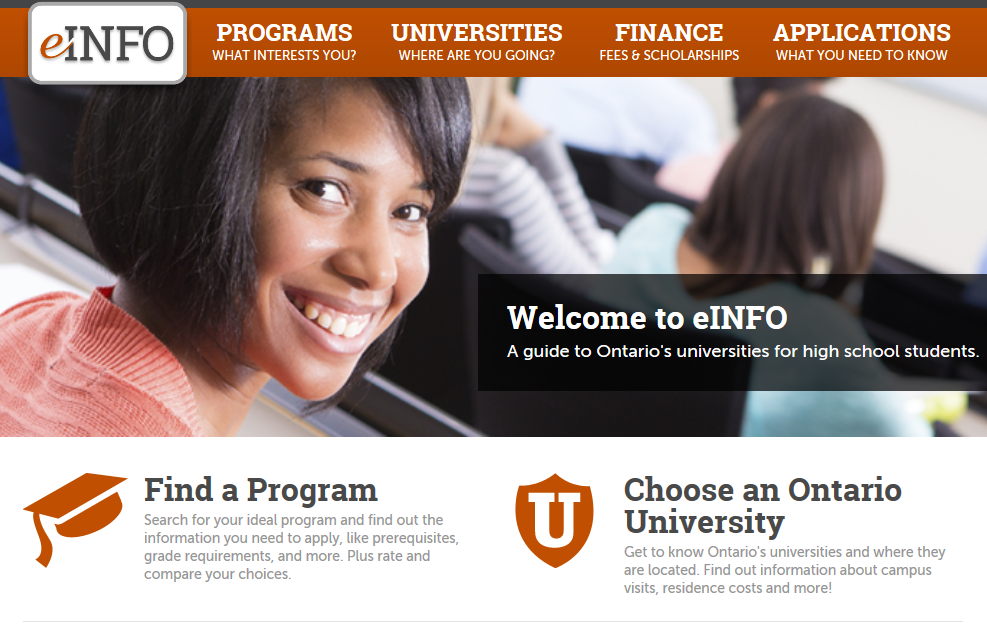 Now it's time to do some more specific research. Look through each university's website, explore the viewbooks and find out more about the places you have chosen. Another great way to get information is to speak to the university representatives that come to your high school. Contact your guidance counselor to find out the schedule of presentations.
The next (and most important) step is to visit the campuses. You will hear it time and time again: "When you visit the campus, you'll know." Speaking from experience, I can tell you how true this is. There are some schools that look great on paper and have everything you're looking for education-wise. However, you'll visit the campus and realize that it's not a good fit for you. It's incredibly important to get a feel for the campus and city you'll be spending the next four to five years in. Check each university's website for important dates and event schedules for open houses.
Now that you have narrowed down the list of schools and programs you are interested in, it's time to apply! Visit the Ontario Universities' Application Centre (OUAC). The first thing you need to do here is determine what type of applicant you are. Once you do this, you will be able to look into application fees, procedures and requirements for your specific type of application. There are three categories of OUAC applicants:
OUAC 101 - This application is for current Ontario secondary school students. You will receive a PIN from your guidance office.
OUAC 105D - This application is for students who reside in Canada and are not enrolled in an Ontario secondary school day program.
OUAC 105F - This last OUAC application type is for students who reside outside of Canada, are not a Canadian citizen or permanent resident, and are not currently attending an Ontario high school day program (in Ontario or abroad).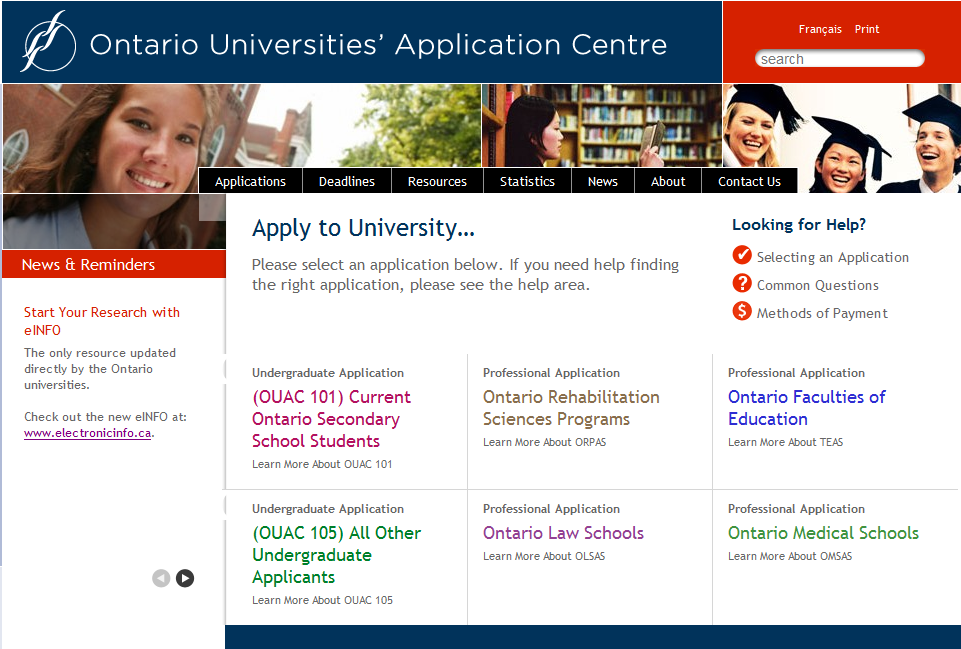 The application deadline for 101 students is Wednesday, January 13, 2016 at 11:59 p.m. I strongly recommend that you apply before this date in case of any technical difficulties! The deadline for 105 applicants varies by program, so make sure that you are aware of the important dates that affect you!
And that's it! Now just check your email regularly and watch the offers roll in! The last piece of advice I will give you here is to be patient. Competitive programs will often send out offers of admission later in the year, so if you don't hear back right away, do not fret!
That's all for now! Happy applying!