When you get to Oshawa (perhaps you're new to Ontario Tech) you're typically going to want to scope out the area. You want to get a sense of fun places to hang out, places to shop, and most importantly, places to eat! In the local cuisine section, you'll see reviews on many diverse and cultural restaurant options in Oshawa. It's great to have so much variety so close to campus for students to attend. Aside from things like pulled pork, thai, sushi, caribbean, poutine, and healthy creations, some of you may be looking for a more traditional option. Something that's hearty and just like a home cooked meal that mom made. This can be hard to come by when you're living away from home!
We visited Traditions Family Restaurant this week to check the place out and get a taste of what they had to offer. Now Traditions is your traditional family style dining; if you didn't get that from the title. What they have to offer is wholesome meals such as burgers, fish and chips, wraps, sandwiches, chicken pot pie, all featuring fresh cut fries or other sides like veggies or mashed potatoes. The menu options are not excessive, but they're a list of solid and delicious homemade type options.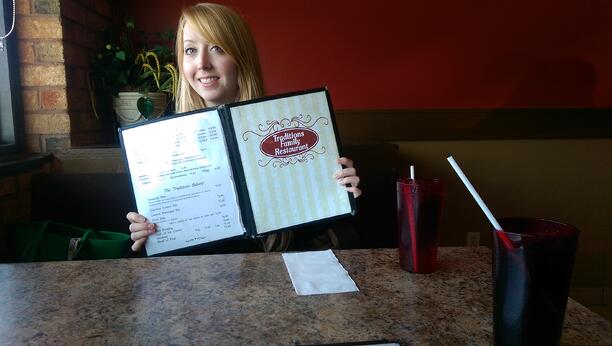 Traditions is located on Simcoe Street North and Beatrice Street East. It's in the plaza on the east side of Simcoe. The best part about this location is that the restaurant is situated right on the 401 Simcoe bus line. This bus goes all the way up and down Simcoe to both Ontario Tech locations. It's just a 5 minute bus ride from either direction. The restaurant is a great spot for lunch, with afforable deals every day. If you're dining mid-day, it's also a quiet and pleasant spot for students to hang out and study.
The service was quick and the server was pleasant, helpful, and attentive to her guests. When scanning through the menu, all of the items are affordable. I ordered the quarter chicken with fries which was about $8.99. I must mention that it didn't cost that much to get white meat! Most restaurants charge you to upgrade to white meat. Swiss Chalet has always been a personal favourite and the chicken served at Traditions is comparable if not better than Swiss Chalet's chicken; very tender and flavourful. In addition to the chicken and fries, they serve veggies, a bun, and gravy to go with your meal.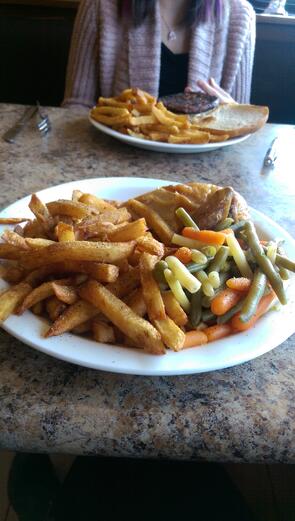 The Traditions Family Restaurant actually used to be a Haugen's Chicken location, but the chicken served at Traditions is still a specialty provided by Haugens. If you're a fan of delicious chicken, you need to check this place out! You can learn more about Haugen's Chicken here. Haugen's is located in Port Perry, just north of the Ontario Tech North Oshawa location.
I would have to guess that Traditions probably has one of the lowest student attendance records compared to the rest of the restaurants in Oshawa. With the restaurant being so close to Ontario Tech, I would encourage more students to check it out, especially if you don't want to drop a 20 on chain/specialty restaurant type food. In addition to being affordable, the restaurant is very clean and looks as though it may have been recently renovated. Unfortunately the restaurant doesn't have its own website but you can find additional information from DineHere and Facebook.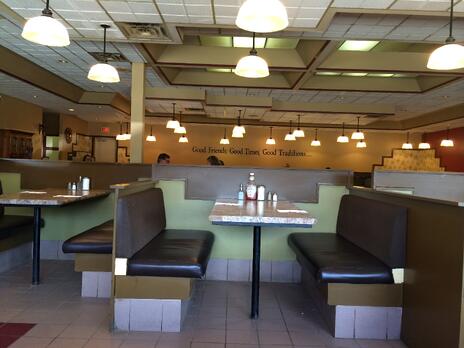 I think with the help of you and other Ontario Tech students, we can make Traditions Family Restaurant a tradition of our own. Do yourself a favour and go get some chicken!