Editor's note (December 4, 2017): The Oshawa location of Yogurty's has closed. It has been replaced with It's All Gravy Poutinerie!
With spring comes many things: flowers, sunshine, that fresh "spring smell", chirping birds, gorgeous patio weather and, my personal favourite, an excuse to eat frozen treats.
As a transfer student, I have a few courses I need to take during the spring and summer months to make my academic plan work for me. While I am totally up for taking courses over summer break, what is going to make it easier to manage is that I will be across the street from the new Oshawa Yogurty's at 53 Conlin Road East.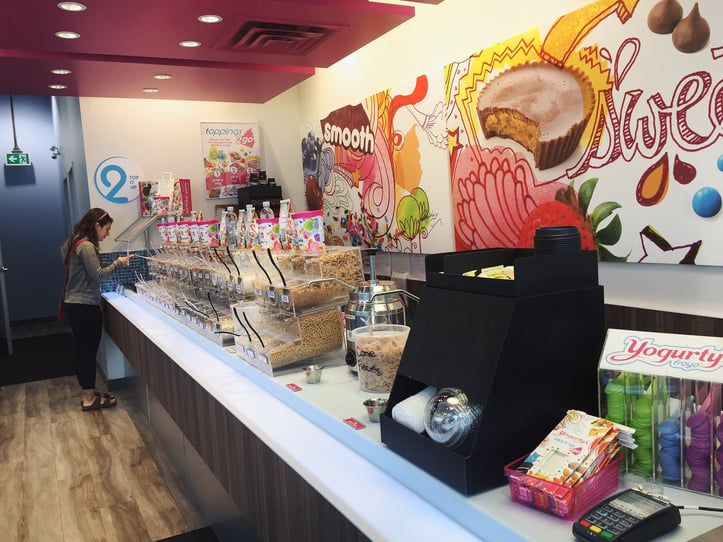 For those of you who have never been to a Yogurty's, let alone this one, let me explain how this awesome frozen treat experience works. Decorated from floor to ceiling, Yogurty's features bright colours and a vibrant atmosphere – one that goes hand in hand with their unique concept. Guests are given the opportunity to select one or a few flavours of frozen yogurt or sorbet from the back wall. Selections rotate through all the time, with over 150 flavours ranging from low-fat, non-fat, tart and non-dairy. My favourites are the Red Velvet and the Wild Watermelon.
Once you've picked your fro-yo flavour, you can go to the toppings section and choose from an assortment of 65 different toppings to put on your fro-yo – from gummy bears to cinnamon cereal and fresh fruit. What's so awesome about Yogurty's is that every visit can be new and exciting, all depending on the toppings you choose to put on top. I'm a big fan of the fresh fruit, but I always manage to put a full sized sour key in my cup for good measure.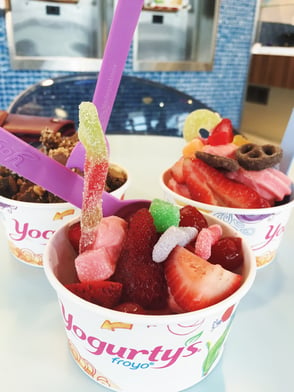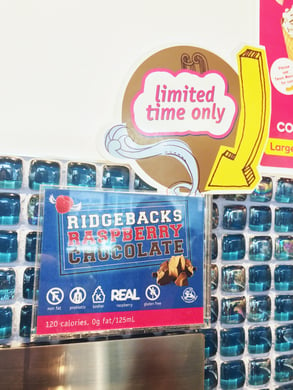 What you pay is based on how much your frozen yogurt cup weighs. So you can put as much or as little in to save money or splurge. Once you've paid, you can pick a spoon colour (the spoons are awesome to keep and re-use) and grab a seat at one of their modern tables and enjoy!
The Yogurty's across the street has something pretty cool that others don't. With its location being where it is, one of the featured flavours you can choose from is the Ridgebacks Raspberry Chocolate. So not only do you get to enjoy a delicious frozen yogurt, you can do so while also showing Ontario Tech pride.
If you haven't had the chance to pop over to Yogurty's I would definitely suggest doing so soon. After all, it's the perfect way to cool down and refresh as the weather starts getting warmer. A full list of flavours and toppings can be found on their website and if you're a frequent fro-yo-er, make sure to sign up for their rewards program to get a free treat!
For those of you who want to hold off on the fro-yo until after you've had your meal (that's not any fun, is it?) make sure to check out our local cuisine section for some other awesome recommendations.