Editor's note (December 4, 2017): In January of 2017, Tutto Market Café announced that it was closing after 38 years of business.
Picking up on my previous entry with what seems to be a trend in downtown Oshawa, I find myself delighted this week to highlight another very new restaurant, and one of my favourites: Tutto Market Café. Tutto, as we kids have taken to calling it, commenced operations just fourteen months ago, on September 12, 2013. Oshawa is no stranger to family-owned businesses and Tutto stands among that special crowd. Co-owned by the families Polidano (Rosaleen and Martin) and Fazio (Angela and Nicholas) – of the wall-adjacent Fazio's Restaurant – Tutto is an inherently local establishment. Open Monday to Friday, 9 a.m. to 5 p.m. and right on Simcoe (29 Simcoe Street S, to be precise), they are always an easy stop. Their seating layout, daily specials and free WiFi help to make Tutto inviting, exciting and convenient, respectively and collectively. You are probably going to want to sit down. Oh, and a student ID saves you 10% on everything.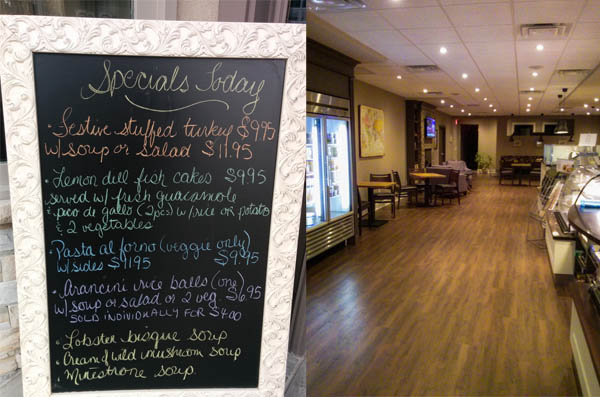 Tutto makes and sells Italian food, generally, and a whole lot else, less generally. "Tutto" does after all mean "everything." Their menu on any given day might include lasagna, pastas, soups, artisan sandwiches, fish, turkey, chicken parmesan (my favourite in the area), and a wide array of vegetables and sides. When I say 'wide array', it's because while they've included the usual suspects – potatoes, carrots, onions – they also offer less common choices: mushrooms, olives, cauliflower, zucchini and rapini to name a few. Oh, and salads. Unique ones, and a whole lot of them. If words like quinoa, cous cous, and arugula get you excited, you're in luck. If you read the preceding sentence as Latin, fret not; Greek, pasta, and potato salads have strong showings, too.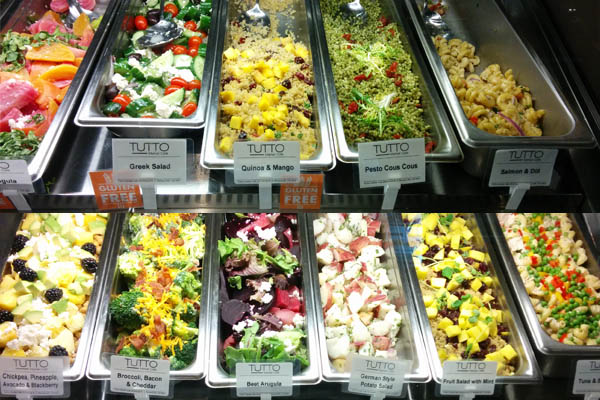 With the fall semester's exams around the corner, students looking to de-stress might find themselves eager to check out one of Oshawa's events this month, to relax for a night and to de-stress. Or if, like me, you prefer to drown the stress of finals alive in a constant stream of desserts, coffee, tea, sugar and baked goods, Tutto has your back! Alongside specialty coffees and teas, there is an entire counter dedicated to cupcakes, cheesecakes, traditional cakes, brownies, s'mores squares, butter tarts, lemon squares, cannoli, super caramel crunch cakes (and minis)... if you're still waiting for something to jump out at you, your eyes might have missed one of the desserts that has "super" in its name. Go back.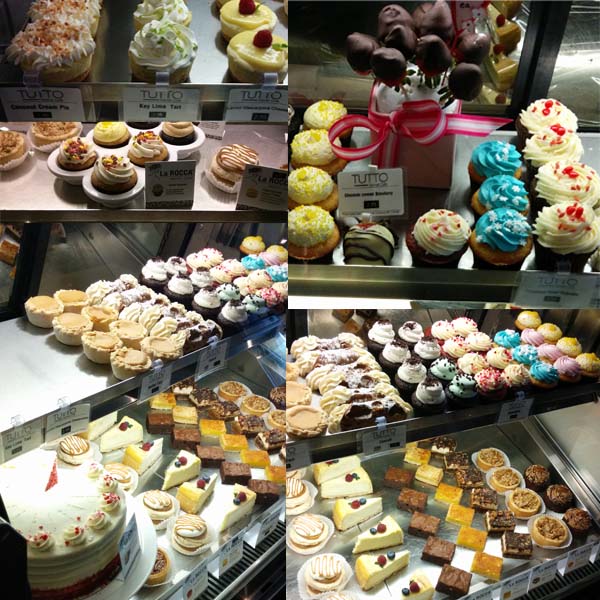 For this particular visit, I ordered one of the day's specials. It was a Friday, and I felt like Arancini & vegetables. "Arancini," if the name rings unfamiliar, is a big ball of rice, meat and cheese, coated in breadcrumbs, and fried to seal (and melt) everything inside. I've visited Tutto more than a few times over the last year, and sampled a fair amount of the menu. Their Arancini is one of my favourites, for two main reasons. Reason one: cheese, meat, rice, melty. The rice ball is stuffed full, and melted cheese in a compact, sealed space means that everything is creamy. Add to that the meat's salty/savoury flavour, contrasted by the sweetness of the tomato sauce, and there is a lot going on here. The contrast is complementary, not clashing; there is nothing in the rice ball that doesn't need to be there, and each element adds to the whole. Reason two: the meal comes in under $7.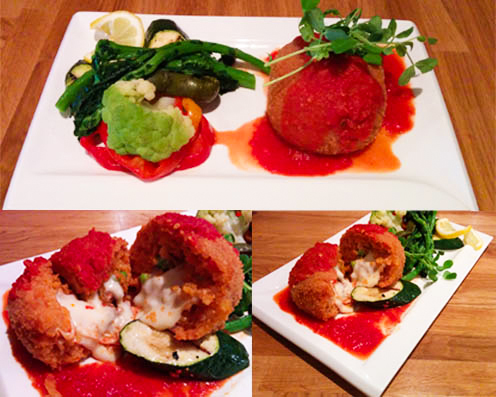 I'd be remiss to conclude without mentioning the service. You enter to a smile and a greeting, and leave with your back to farewells. In my correspondence with co-owner Rosaleen, as I gathered background for this entry, there was a distinct emphasis on service, and that mindset is nowhere more apparent than in Tutto's staff. At a table near the service counter, just within earshot of customers walking in, I heard baristas not only answer questions, but actively engage customers with questions of their own: "What sorts of things do you usually like? I've tried everything here."
I end this one with a warning: from the day of my very first visit, I began to notice in myself a pattern of strange behaviour – a sort of navigational superpower. My brain suddenly seemed able to generate highly creative routes to and from classes and buildings. Or at least I can offer no other explanation for Tutto Market Café being constantly "on the way," regardless of my destination.