Rainbow Family Restaurant sits conveniently on Simcoe Street in downtown Oshawa, where it has now for more than 56 years. Whether you're after breakfast (any time), a sandwich, steak, salad, wraps…they've got you covered. Just about every Oshawa city bus drives by the blue building, and downtown students are never more than a 5-8 minute walk away from a hot breakfast, even at night (if that's your thing). "The Rainbow" was opened in 1958 by the Givelas family – Christopher Givelas, his brothers Nick and Steve, and their father John – after moving from Greece to Canada in the early 1950s. Today, Rainbow Family Restaurant is in the hands of Chris's son Louie Givelas (Chef Louie G), now proudly operating one of the oldest family restaurants in all of Canada.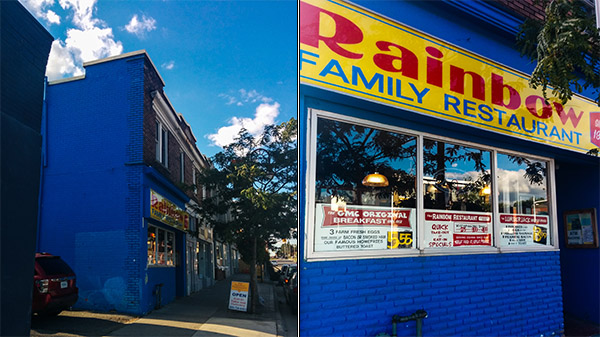 This fall, I have the distinct pleasure of attending multiple 8 a.m. classes each week. It can happen. Fortunately, Rainbow is open from 7 a.m. to 7 p.m., Monday to Friday. I walked in with two friends just a few minutes after seven o'clock this past Tuesday in advance of our morning class. Warmly received, we took to a booth near the kitchen.
It is immediately apparent upon entry that the restaurant is ingrained in the city; framed photos line the walls around you, showcasing regular customers, celebrity figures, and everyone in between. All of this lends to your immediate environment an impression of shared presence; the restaurant's regulars hold up its walls and are in turn presented back to new and returning customers alike.
Our server was fast, friendly, and tremendously comfortable navigating the restaurant's menu off-the-cuff. Excited to be participating in the magic of breakfast for the first time this semester, I had many questions – all of which were met with a smile and a swift suggestion. I settled on Peameal Back Bacon & 3 Eggs (pictured below). And cheese. And home fries. And toast. The plate immediately reinforced the conversation about Rainbow's mantra that I'd had with Chef Louie: low prices, high quality, at a high volume. In a typical week, Rainbow Family Restaurant serves up 3,000 eggs, 400 lbs of bacon, and 100 lbs of ground beef – as well as twenty loaves of bread a day.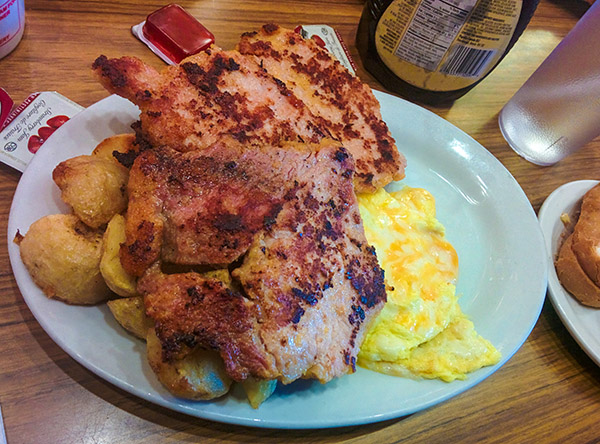 Our meals were served in great time. We had about 45 minutes before class and were not at all pressed for time after eating. My peameal came in three large slices, almost like "pork steaks." The seasoning was excellent; I am not unfamiliar with peameal, but I had not had it like this before. My favourite part of peameal bacon is the distinctive flavour that results from the meat curing process, and I would describe Rainbow's peameal as featuring more of my favourite thing. Salty, smoky, and a little bit sweet, it hits you in micro-bursts as the competing elements make their respective ascents. To really balance things out, the restaurant's made-in-house hot mustard is a must-try. I was immediately reminded of a smoked chipotle barbeque sauce that I used to love (and can no longer find anywhere), but the mustard's lighter tang is the perfect countermeasure to all of that heat, leading you through a dance that sways between mild heat and quick relief.
Rainbow Family Restaurant has one of the most extensive menus I have yet found. There is something for everybody here: pancakes, French toast, salads, wraps, steak, bacon, eggs, omelettes, specialty sandwiches… it really is worth the trip. Downtown students are only a few minutes' walk away after any given class, but the restaurant's location relative to the Simcoe & Bond bus stop really makes it ideal for everyone at Ontario Tech. Rainbow's prices are the lowest I have yet found in the area, in part because they rely on the business ethos that has carried the restaurant through five and a half decades of service: great food at an affordable price in tremendous volume. Opening at 7 a.m. every weekday, even the earliest of classes leaves you time for the Rainbow.
Show up hungry.