Kip's Flamin' Burgers has been open at 1812 Simcoe Street North for about a year now, but the business actually has a 48 year history. Having originated in Scarborough, and with another location currently operational in Pickering, owner Manny Makaram is a veteran of the burger craft. Kip's is within walking distance of Ontario Tech's North location – though as I write this it is -22°C outside and I am using the word 'distance' very liberally – and is also conveniently accessible via northbound/southbound Simcoe buses. If the prospect of a sojourn through the outside world has you shaking, though, Kip's delivers.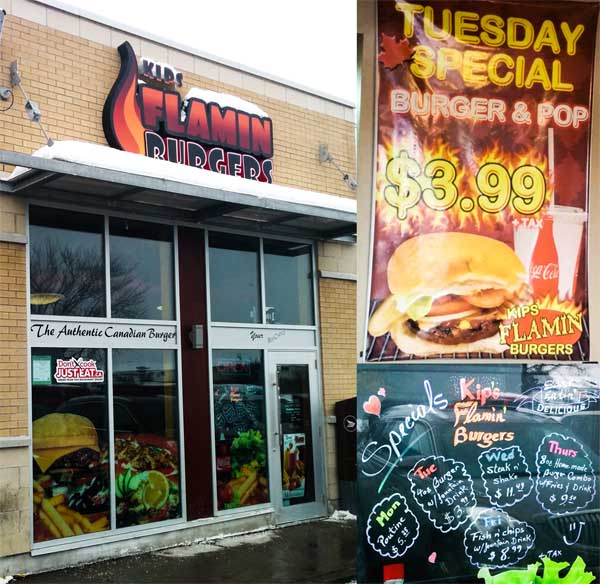 Stepping into Kip's puts you near the counter and directly below a superbly readable mounted-TV-menu. This was my third visit and I've been greeted quickly and happily every time. There are a few different choices for seating, and I like the aesthetic of their benches; like being in a park that isn't -22°C, they are cozy, and the wall art (pictured below) helps the atmosphere along, too.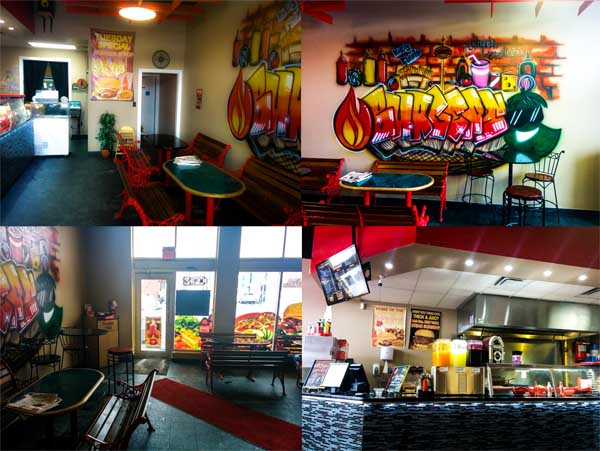 Kip's Flamin' Burgers do sell their namesake – of beef, chicken, and veggie varieties – but the menu also includes hot dogs, sausage, steak (burger), fish n' chips, and souvlaki, as well as onion rings, Greek salad, poutine, fries, and Greek fries (feta and stuff!) for sides. If you're looking for dessert at the end of your meal, they serve ice cream cones, floats, funnel cake, and milk shakes. I probably should have mentioned the free WiFi by now, which you can use to drop me a comment below, the next time you're out grabbing a burger. Kip's runs daily specials Monday through Friday, with Tuesdays featuring a 4oz burger and drink for only $3.99. Buns are made daily and are always fresh.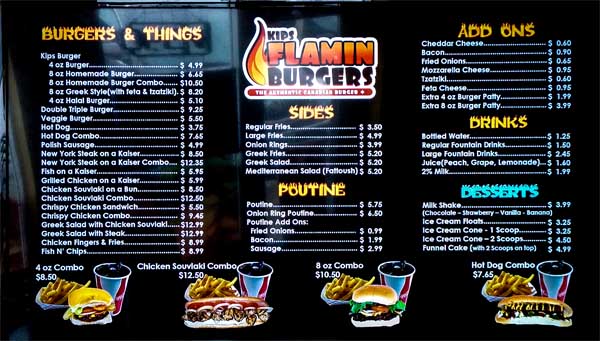 I was referred to Kip's Flamin' Burgers for their Greek fries, and I take referrals very, very seriously. About food. You are not the boss of me, but I will eat anything that you tell me I want. So I ordered up a 4oz Burger & Greek Fries. The burger is juicy and tender. I tend not to like anything too greasy, and this burger feels very clean; the texture is just meat cooked right. The bread is great. I wouldn't typically make a point of mentioning burger buns (the oft underappreciated heroes of Hamburg), but this one reminded me of bringing bread home from a trip to the bakery; soft and fresh, but firm enough to hold everything together. I hadn't had a burger in a while (too long, really, but you're not here to read about my struggles) and this was a great way to dive back into the burger game. I will not apologize for that sentence. The Greek fries were a delightful surprise for me. Think poutine, but with feta instead of curds, and a vinegar/herb mix instead of gravy. Maybe don't think about poutine, actually, this is quite different. The flavours work off of each other very well, and the vinegar is quite mild. I had worried about the fries getting soft, or being too vinegary, but everything held up very well, and was surprisingly subtle.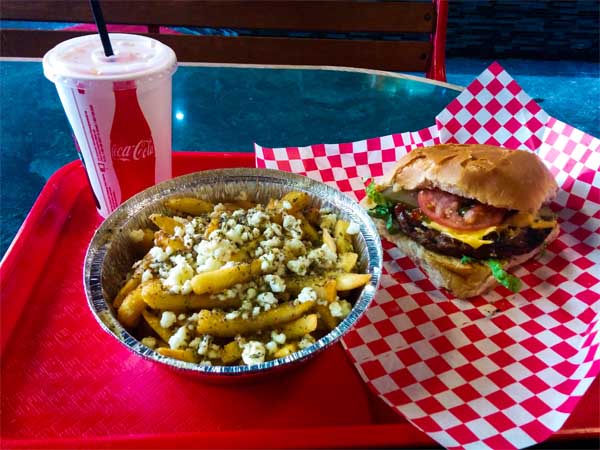 Kip's Flamin' Burgers is open every day, from 11:30 a.m. to 10:30 p.m. (noon to nine on Sundays), delivering authentic Canadian burgers as their slogan promises. Drop in for lunch or dinner, or stay inside on your warm couch/bed/floor and place your order online. If you have classes at the North location, you are absurdly close to 1812 Simcoe Street North already, so stop spending $4.01+ on your Tuesday lunches and check out Kip's Flamin' Burgers' $3.99 deal; it's only a hop, skip and a jump away!