Berry Hill Catering, a new favourite of mine in downtown Oshawa, is the focus of this month's Local Cuisine Spotlight. And when I say "new," I mean it; it opened its doors in April 2013.
I learned about Berry Hill last year through some classmates' excitement over an open mic night taking place on its back patio, and I am excited to pay forward the favour that finding this place has shown itself to be. The restaurant's weekday hours of operation span from 7 a.m. to 5:30 p.m., and a special breakfast menu is available up to 11:30 a.m., making it a great student breakfast option before and after 8 a.m. classes. Stationed at 82 King St. W., Berry Hill is just a few minutes' walk from downtown classes and bus stops alike – some buses drive right by it on King Street, in fact.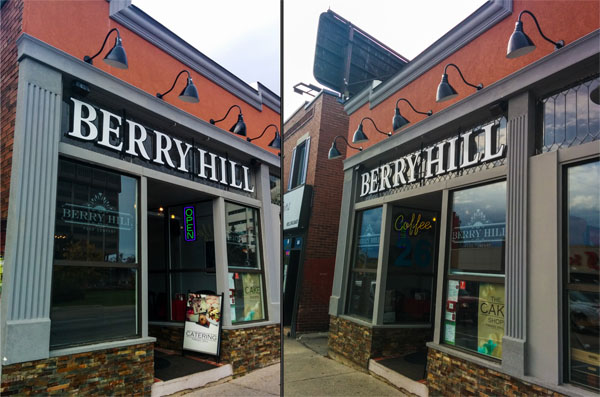 At the heart of Berry Hill is its owner, Chef Sarah Groen. While growing up in Durham Region, Sarah discovered a passion for the culinary arts at a young age, and set off in the direction of food. From studying at George Brown College in Toronto, to an apprenticeship at Toronto's 360 Restaurant in the CN Tower, to the Marriott in St. Kitts, to working as a private chef on luxury yachts in Bermuda, Sarah has accrued a tremendous wealth of knowledge and breadth of experience in all things culinary. She has now come full circle, bringing her passion back to the place she grew up, together with her husband and young family, to create something new and personal.
Berry Hill's menus and service counter are right near the entrance – an immediate comfort for newcomers and returning customers alike. The staff are very friendly, personal, and accommodating. While Chef Sarah is currently on leave after welcoming a second daughter into the family, her intrepid stand-in at Berry Hill, Jess, was wonderfully capable during my visit last week. Where accommodations are concerned, dietary restrictions and preferences are quite flexible within the menu. Berry Hill offers specific gluten-free, vegetarian, and vegan options, as well as substitution options for sandwich breads and the like. Believe it or not, I have had mixed experience in the past walking into restaurants and asking "what's fresh/good/delicious/pretty here?", but my questions at Berry Hill were met with a friendly excitement. My order this time was the Turkey & Brie Wrap, which includes coleslaw (as do all sandwiches), pictured below.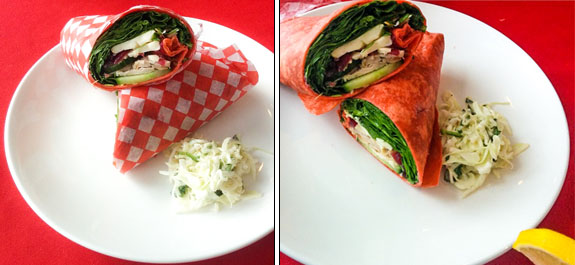 Full disclosure: As I'm taking this shot, I'm thinking that I'm not sure if I've ever tried brie cheese before this moment. I am also fairly certain that I don't like slaw based on past experience. But I have a good feeling.
I will assume here that you won't take offense to my spoiling the ending: I liked this very much. As it turns out, brie is awesome. Creamy, almost buttery, but mild, it operates as a versatile balancer for competing flavours and textures. Between the turkey, cranberry dressing mayo, cucumber and baby spinach, the blissfully buttery brie sufficiently blends together the disparate elements of each component – smoothing the edges – to unify the dish. It tastes, and feels, remarkably fresh and very light.
As for the slaw, I will admit that I was hesitant. I loaded my fork so as to capture it all in one bite. But I didn't recognize the flavour at all; it wasn't vinegary or sharp, or anything I expected – it was even a little bit sweet. I was curious at this point, so I made sure to ask about it. Sure enough, this particular slaw involved spinach, cabbage, and a mango dressing. It really is different (in a good way) and definitely worth sampling whether you are a slaw lover, or someone like me. I can see myself ordering it as a standalone item.
Berry Hill was a refreshing visit. Their business ethos ("real food, real ingredients, really good!") has certainly rung true through my experience. The menu is impressively flexible in its ability to fit different customers' needs, while remaining diverse in its offerings. Gourmet pizzas, salads, pastas, soups and sandwiches, and variations available on much of the menu to accommodate a diverse set of lifestyles and dietary needs, make Berry Hill a must-visit for students looking to try something new. Those of us with 8 a.m. classes are covered too, as Berry Hill is early to rise at 7 a.m. every weekday.