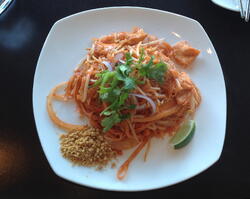 We've all been there. You're sitting in class and your stomach audibly growls. Your thoughts wander from the lecture material to lunch plans. But where can you satisfy your craving for a delicious meal at a student-friendly price?
The answer, my friends, is aZian. aZian opened its doors at Taunton and Wilson in Oshawa in August 2007 and quickly became a local favourite. With a wide range of dishes reflecting the cuisine of China, Japan, Thailand and Vietnam, they're not kidding when they say it's a plateful of Asia.
At lunchtime, you can satisfy the biggest of appetites for as little as $6.99. Ontario Tech students, staff and faculty flock here for favourites like mango chicken with rice, teriyaki, and pad thai. Dinner will set you back around $10.
On the day that my coworker Sharleen and I headed to aZian for this review, we were quickly joined by many other colleagues craving a plateful of Asia. Between the five of us, we enjoyed sushi, pad thai, soups, salads, mango chicken and a Coke (what can I say? Caffeine helps my blog writing).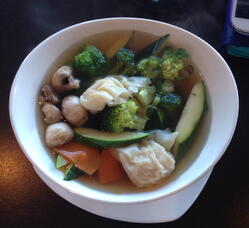 The only thing that rivals the food and affordable prices for my favourite part about aZian? The service! Servers are always friendly and helpful. And if you're a regular, they'll have your favourites memorized in no time.
So if looming finals have you down and you need a break and some nourishment to keep going, stop by aZian. And if you're stuck on what to order from the huge selection, ask Herman for Andrea's favourite and you'll have a plateful of scrumptious veggie sushi in front of you in no time!
Check out more of our local cuisine spotlights for other delicious Oshawa restaurant selections.