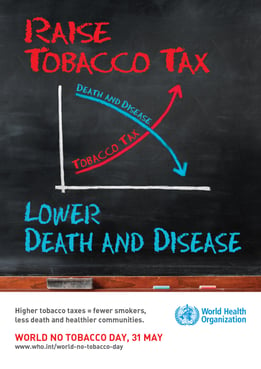 What do cigarettes, electronic cigarettes, hookahs, smokeless tobacco and marijuana have in common? Simple – they are the leading cause of lung cancer in Canadians.
Lung cancer is the most commonly diagnosed cancer, and the leading cause of all cancer-related deaths. In 2015, it's estimated that 26,000 Canadians will be diagnosed with lung cancer and over 20,000 will die from it.
That's an astounding 73 diagnoses and 57 deaths per day just from lung cancer. To top it off, more people in Canada are addicted to nicotine over any other drug. With that in mind, we want to help you leave the pack behind, so join us on this World No Tobacco Day to pledge to lead a healthier life and quit smoking.
Quitting never felt so good, and here's why:
Within eight hours of quitting, the oxygen levels in your blood increase.
Your sense of smell and taste improve in just two days.
In two weeks it is easier to breathe.
Within six months, your coughing, sinus congestion, tiredness and shortness of breath will improve drastically.
After one year, your risk of smoking-related heart attack is reduced by half.
If that's not enough incentive, take a moment to consider what is in each cigarette:
Acetone (found in nail polish remover)
Ammonia (found in most common household cleaners)
Arsenic (the main component in rat poisons)
Butane (found in lighter fluid)
Carbon Monoxide (car exhaust fumes)
Formaldehyde (used as embalming fluid)
Lead (found in batteries)
Methanol (main component of rocket fuel)
Nicotine (used as insecticide)
Tar (used for paving roads)
Tobacco smoke contains more than 7000 chemicals, hundreds of which are harmful, and approximately 70 of which have been proven to cause cancer.
"So how do I quit," you ask?
Set a quit day.
Prepare to handle withdrawal – resist temptations during this time and control your cravings.
Choose your way to quit.
"Well, what ways are there to quit?"
Get assistance from a doctor
Telephone counselling (Quitline Services: 1.877.513.5333)
Ask your doctor to refer you to individual, group or behavioural therapy
Nicotine replacement procedures (like the patch, nicotine gum, etc.)
Want more information on quitting? Visit www.leavethepackbehind.org. Alternatively, you can stop by the Campus Health Centre, open Monday to Friday 9 a.m. to 4:30 p.m. or email them at healthcare@uoit.ca for more information on how to quit.
Resources
https://www.facebook.com/LTPB.DC.UOIT
http://www.cancer.ca/en/support-and-services/support-services/quit-smoking/?region=on