Hello everyone! First off, let me wish all of you who are students luck as we go into the final exam period – remember that marks do not define you, stay hydrated, and remember to study! If you do find yourself in need of some protein to power the ol' gray matter, look no further than the delicious goodness that is Justice Burger! Justice Burger is located at 77 King St. East in Oshawa. It's literally right beside Smoke's Poutinerie for reference. If you're a student, it's across from the Regent Theatre, just further east. If you're taking transit, you would take the 401 Simcoe, and get off at King & Centre, then walk east for a couple of minutes. Soon enough, the journey will be complete, and you too can be served JUSTICE!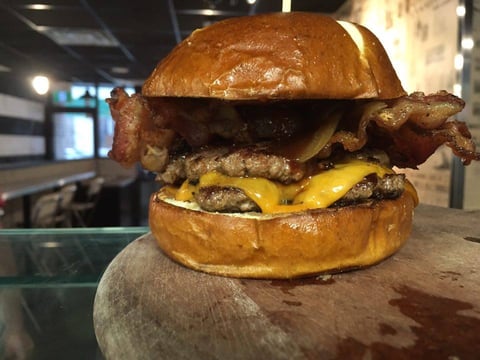 Justice Burger is run by a group of young entrepreneurs all under 30, who also all live in Oshawa, so they understand the value of having local goodness. In connection with this – they use only local ingredients that are always fresh, with organic produce. The burgers use Ontario beef, and they are never frozen so that they can maintain a delicious warmth all the way to your stomach. If having fresh produce and beef is not enough of a draw for you, all of the sauces used on their burgers are made in-house. But I am making my own mouth water thinking about it, so it's about time for me to focus on the glorious food!
Do you see that meaty goodness in the picture on the left? That right there is the BBQ Bailout, consisting of two Justice patties with cheddar cheese, triple smoked bacon, caramelized onions, BBQ sauce, on a pretzel bun. Now for those who haven't read other blogs, one thing you should know about me is bacon is almost its own food group, and I absolutely LOVE caramelized onions. So being able to put copious amounts of both on a quality burger was obviously a plus for me. The burger itself is very good and you could easily eat the patties on their own, they taste that good!
I got a combo with regular fries and a can of pop, and it came to $14 with tax. I just got plain fries and they're good, but you have two options if you would like to expand: Felony Fries, which are fries tossed in Franks Red Hot & sea salt with a spicy crème drizzle. There are also Deluxe fries, which add cheddar cheese sauce, BBQ sauce, and bacon – just in case there wasn't enough bacon on the burger already. But for those who aren't as much of a bacon fanatic as me, there are other burgers on the menu such as….
The Jalapeno Subpoena! So yes, I had to go back a second time and try a different Justice burger, and this was definitely a good choice! This burger comes topped with pepper jack cheese, jalapenos, guacamole, caramelized onion, lettuce, spicy crema, on a pretzel bun. I went with a whole wheat bun, just because I figured I would make a healthy choice. It's delicious! I'm not sure what spicy crema sauce consists of, but know that you want this sauce on pretty much anything you are eating. I have an affinity for spicy food, so I did not find it truly 'spicy' per se, but there was a nice kick between the cheese and jalapenos. I would definitely recommend trying!

In essence, Justice Burger should be a good addition to the food options that are already downtown Oshawa, providing quality local food to all their customers. But I want to highlight a deal specifically for students! If you are a Ontario Tech /DC student, and you show your ID, you can get a single patty Justice Burger (3.5oz) for $5 ($5.65 with tax) topped how you would like (bacon and cheese are extra). This deal is good for those who don't want to eat a double patty burger or are looking for a cheap, yet quality option on the downtown campus.

This concludes another blog, thank you for reading! Please leave suggestions in the comments below as to where I should go in the new year. But before I go, I must ask - if you have not yet been served justice, what are you waiting for?