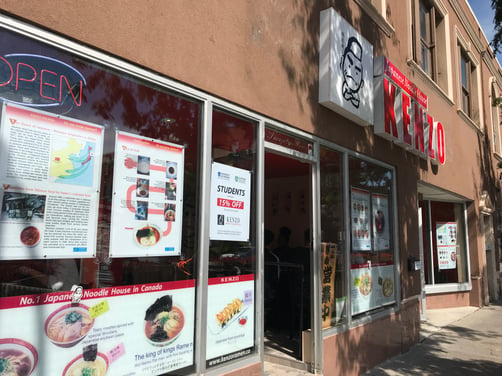 No longer do you have to journey to Toronto just to fill all of those burning Japanese food
desires.
And no, I'm not talking about sushi.
Your Japanese food fix comes in the form of
Kenzo Ramen
located at 24 King St E. in Downtown Oshawa.
Just a stone's throw away from the
Regent Theatre and Bordessa Hall
, Kenzo boasts its 14th branch, opening its doors to the public this past Summer. The popular Canadian ramen chain with locations in Toronto, Mississauga and Hamilton
is
known for its use of fresh in-house noodles made entirely from scratch.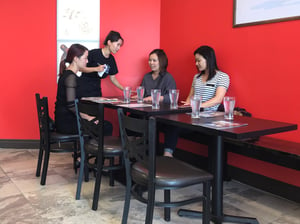 Upon walking through the restaurant's front doors, prepared to be greeted with a loud yet friendly, "Irasshaimase!" which is the Japanese equivalent of "Welcome" or "Come on in!"
The interior has playful animations and some notable homage to Japanese decor — essentially a great way to set the ramen eating mood.
This is where the fun begins...
The Oshawa
menu
continues Kenzo's long history of versatile offerings. Choose from three traditionally styled ramens like the Shoyu, Shio or Miso and be sure to load it up with additional toppings like corn, seaweed, extra noodles or a marinated egg.
Alternatively, you can choose from a variety of hot ramens with varying spice levels or one of Kenzo's specialty ramens like the "Jisu Ramen" or the "Tsuke Men." If you're not a ramen fan, then you'll be pleased to know they offer a plethora of other famous Japanese fares including Donburi (meat or egg over rice) and even traditional style Tonkatsu curry.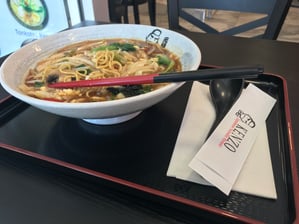 If you're out of chopstick practice, then this place is not for you. Eating hot ramen with a pair of chopsticks takes patience and is definitely not for the faint of heart. Although after a few visits and some slipping and sloshing, you'll be slurping your noodles from bowl to mouth in similar fashion to ramen veterans.
Did you say you're feeling a little extra hungry?
There are plenty of mouthwatering sides to pick.
Choose from either Gyoza, tofu, chicken Karage or a personal favourite, Takoyaki — baked octopus balls with cheese and green onion, drizzled with sweet mayonnaise, special sauce and topped with bonito flakes.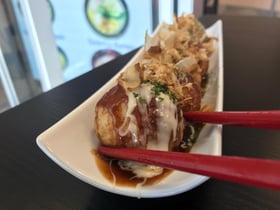 If you need more to convince you to check out Kenzo en route to class, then you should know university students get 15 per cent off their entire meal.
Students at the north Oshawa location: you'll want to make the trip downtown for this!
When you're finished at Kenzo, you will have a belly full of noodles and a heart full of joy. Prepare to immediately want to curl up in a ball and sleep it off — just make sure to save your ramen coma for after class!
Want to learn more about our downtown campus location that's close to your new favourite ramen joint? Check out our virtual tour today!