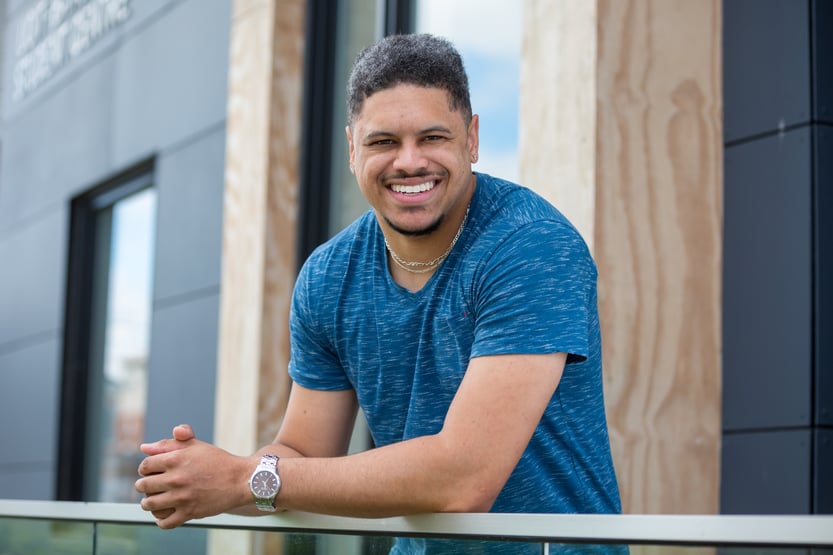 Name: Ryan LePage
Program of study: Masters in Criminology
Year of study: First
Why did you choose your program?

I have always been interested in the criminal justice system, and like many fresh high school graduates had the idea of being a lawyer on the table. But I find Criminology much more interesting, so I am now pursuing that route!
What do you want to do after you graduate?

I am currently pursuing a Master's degree. After that? I would like to get into an institution to continue doing research in the field of Criminology.
What's your favourite childhood toy?

Oh gosh….probably hot wheels cars!
What's the one food item you couldn't live without?

Poutine. Definitely delicious, glorious poutine. A close second would be tacos!
Favourite TV or movie quote:
"The problem is not the problem. The problem is your attitude about the problem! Do you understand?" – Captain Jack Sparrow
Favourite TV show or movie:
Pirates of the Caribbean!
Favourite 90s boy band or musician:
I'll go with 90s musician….Rage Against the Machine!
Favourite past Student Speak blog:
I really enjoyed Chris' blog on Five reasons to choose and love Ontario Tech University, it helps that Chris is a stand-up guy!
If you could have met anyone in the world who would it be?
Either MLK or Malcolm X. Speaking to either of them for even 5 minutes would make me a significantly better person!
Favourite sports team:
Boston Bruins!!
Ice cream or pizza?
Oh god can I cheat and say DQ Treatza pizza? But if I had to choose, pizza.
Beach vacation or Euro-trip?

Euro-trip!
Favourite Durham Region restaurant?

Buster Rhino's Southern BBQ! Amazing food, and great craft beer!
Favourite place to hang out on campus?

You'll almost always find me on the 2nd floor of Charles, hanging out in the lounge.
What would you tell first year you?
Don't stress. Don't be afraid to ask questions. Upper year students are your friend. It will all work out in the end!
---
Stay tuned for Ryan's food blog posts this year.