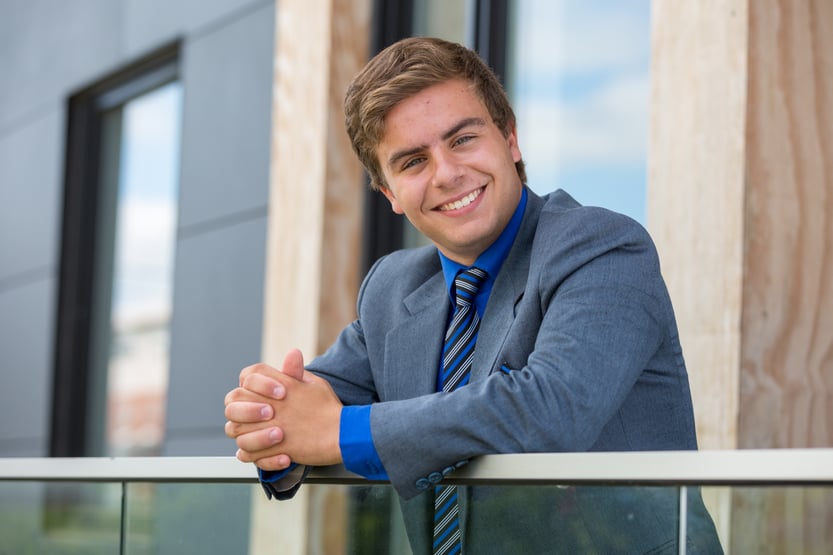 Name: Michael Cassar
Program of study: FBIT - Commerce
Year of study: Third
Why did you choose your program?
I chose my program because I dream to help better the world through the field of organizational behaviour and human resources by advocating and communicating the positive and marketable values of ethical and responsive organization to the needs of potential employers, business partners, governments and civil society.
What do you want to do after you graduate?
After I graduate, I intend to pursue the exams to achieve a Certified Human Resources Leader (CHRL) designation, and would begin to continue my journey towards becoming an aspiring HR professional towards becoming a current one.
What's your favourite childhood toy?
When I was little boy, I was quite fussy and risk adverse about getting my first haircut. So one day, my father promised me that if I had sat still, he'd buy me a Superman (who was and still is my favourite superhero) doll if I were to behave as the barber cut my hair. He did not expect me to take him up on his offer, but when I did, he frantically searched the Whitby Mall for such a doll. To his luck and my joy, he found it, on a temporary flea market like table. To this day, I still can't part with this special doll.
What's the one food item you couldn't live without?
One food that I simply could not live without would have to be cheeseburgers.
Favourite TV or movie quote:
"To infinity, and beyond!" –Buzz Lightyear, Toy Story
Favourite TV show or movie:
My favourite TV show would have to be Seinfeld, and my favourite movie would have to be Toy Story.
Favourite 90s boy band or musician:
Frank Sinatra all the way!
Blog that you're most excited to write:
I am most excited about both my upcoming maiden blog posts: that of how I arrived at Ontario Tech as a transfer student, and the value of doing and internship or co-op in my upcoming interview with my co-worker Anne Coulby.
Top 3 bucket list to-do items:
Change the world in a positive and large way
Travel around the world
Write a novel or autobiography
Who is your career idol?
James "Jim" Goodnight –CEO of SAS
Favourite sports team:
New Jersey Devils
Ice cream or pizza?
Both!
Beach vacation or Euro-trip?
How about a beach vacation in Europe?
Cats or dogs?
Dogs all the way!
What's your favourite book?
The Little Engine That Could – By Watty Piper
Favourite Durham Region restaurant?
Teddy's Restaurant in Oshawa
Favourite place to hang out on campus?
The Adirondack chairs in front of the library in the summer and spring, the Polonsky commons on a nice fall day, and the library 2nd or 3rd floor in the winter.
What would you tell first year you?
Time management is a skill you will continue to value in the future.
---
Stay tuned for Michael's blog posts this year!