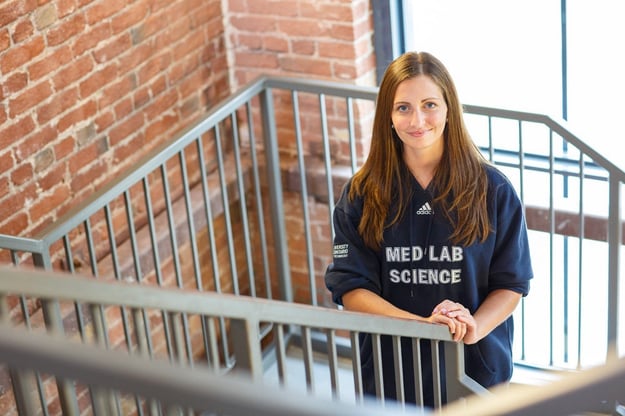 Name: Maria Roussakis
Program of study: Medical Laboratory Science
Year of study: Fourth Year
Why did you choose your program?
I chose Med Lab here at UOIT for several reasons. First off, I wanted a program where I could pursue my love of Biology and Chemistry. As well, I have always been interested in helping others and making a difference, and could see myself working in healthcare. At first I thought of becoming a nurse, however, I realized that with my emotional disposition I would never be able to deal with dying or severely sick patients face-to-face every day, and needed to be more behind the scenes. I also am very analytical and a critical thinker, which are traits found in Medical Laboratory Technologists (MLTs). Finally, I wanted a program that was more streamlined into a specific career and would teach me the specific skills and theory towards working in the Medical Laboratory.
What do you want to do after you graduate?
After I graduate, I would love to work in a hospital or private lab as an MLT, preferably in Microbiology or Transfusion Sciences, however, any of the five disciplines (Biochemistry, Microbiology, Hematology, Transfusion Science and Histopathology) would be fine as well. In the future, I plan to pursue further education in order to become an Infection Control practitioner. I could also see myself coming back and teaching in the Med Lab program at UOIT.
What's your favourite childhood toy?
When I was younger, I was attached to this black and white stuffed cat, which I named Tiger. He was one of the Kitty Kitty Kittens stuffed animals that were popular in the nineties. These stuffed cats would purr when you shook or moved it. I was so attached to him and brought him anywhere I went. From his constant travels, he would get scruffy and dirty. However, I would never let him out of my sight. My mom would have to take him from me when I was sleeping to wash him in the washing machine. Even in all his scruffiness and with the purring mechanism lost, I still have him with me in my fourth year of university. It only seemed natural to bring him along with me to my first year at UOIT. Even now in my last year at UOIT, I have him in my bedroom sitting on my bookcase.
What's the one food item you couldn't live without?
I am in love and could never live without sushi! Anyone who knows me personally can attest to my love, some would say obsession, of this cuisine.
Favourite TV or movie quote:
"Fives have lives, fours have chores, threes have fleas, twos have blues, and ones don't get a rhyme because they're garbage!"
-Dean Pelton, Community, App Development and Condiments episode
Favourite TV show or movie:
One of my favorite TV shows of all time is Parks and Recreation. There are so many great qualities and characters in this show. I was very sad that it finished, however, it had a great run.
Favourite 90s boy band or musician:
One of my favorite 90s bands is the Foo Fighters.
Blog that you're most excited to write:
I am most excited to write my blog on "5 Inspiring TED talks for students". Can't wait to get inspired!
Favourite past Student Speak blog:
My choice for my favourite past Student Speak blogs is kind of biased as it was the blog written by Dimitri Tsalavoutas called The UOIT Medical Lab. This blog gave a good look into my programs labs and the equipment that I have used frequently.
Top 3 bucket list to-do items:
Working with Doctors without Borders.
Visiting Pakistan.
Opening up an animal shelter in Karpathos, Greece.
Who is your career idol?
I have several career idols, and they are all the professors within the Med Lab program. Most of my professors and lab instructors have worked or still do work as Medical Laboratory Technologists (MLTs) and have real experience in the medical laboratory. With this experience, they are able to explain the theory in class extremely well and reproduce the labs to have them as close as they would be in real life. They are also all kind and willing to help their students understand the course material and assignments. I only hope that later in my career I will know the clinical laboratory as well as they do, and be able to contribute my knowledge by teaching.
If you could have meet anyone in the world who would it be?
If I could meet anyone in the world, it would be John Oliver. I am in love with his show "Last Week Tonight" and his witty remarks on current events. As well, on top of being comedic, his show also creates dialogue in important issues and inadvertently evokes change.
Ice cream or pizza?
Pizza, all the way!
Beach vacation or Euro-trip?
Euro-trip.
Cats or dogs?
I love all animals, however I am in love with cats and own two cats, named Thomas and Patchy, which are back home.
What's your favourite book?
My favourite book is "The Kite Runner" by Khaled Hosseini. Even though I haven't read the book in such a long time, I still remember the imagery of Afghanistan through the several military interferences. While the backdrop of the story occurs in a foreign country, the story of the boys' love and friendship is one that we all can understand and relate to.
Favourite Durham Region restaurant?
My favorite restaurant in the Durham Region is Rainbow Sushi on Simcoe Street. It's my favourite because they have delicious all you can eat sushi at a low price. It's also just a five minute bus ride from UOIT!
Favourite place to hang out on campus?
One of my favourite places to hang out on campus is the cafeteria in the Simcoe building. It is great whenever you have quick breaks for lunch because there isn't a huge line for the microwaves. As well, later in the day, it a great place to study as it is really quiet.
What would you tell first year you?
I think one of the most important lessons looking back to first year is to not hold on to the past. You should not be afraid to be independent and grow as a mature person. Especially in first year, it can be a difficult because it is the first time that many live away from home. Students can become very homesick or shy, and this hinders their university experience. The only way that students can experience university life is by putting themselves out there and letting go of the past. Don't hold on to things just because they are familiar, but instead go into the unknown. It might seem scary at first, but moving on from your past helps you build your future.
---
Stay tuned for Maria's fun facts blog posts this year!