Name: Hunter the Ridgeback
Occupation: Mascot and #1 fan of Ontario Tech Ridgebacks
What's your favourite childhood toy? I love to play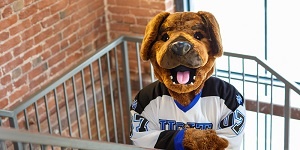 with my stuffed lion. I pretend we're in a competition... I always win.
What's the one food item you couldn't live without? The appetizer platter at Shagwell's on the Ridge!
Favourite TV show or movie: Air Bud… It gives me hope that my dream of playing for the Ridgebacks can come true!
Favourite song: "Who Let the Dogs Out" by the Baha Men
Blog that you're most excited to write: Every Friday I'll be writing an Ask Hunter post!
Favourite past Student Speak blog: Hunter's Guide to Open House, of course!
Top 3 bucket list to-do items:
Be the first dog on the moon.
Meet Lassie.
Receive an honoury Dogtorate from Ontario Tech University.
Who is your career idol? Gidget the Taco Bell Dog!
Favourite sports team: The Ridgebacks!
Cats or dogs? What do you think?
What's your favourite book? Clifford the Big Red Dog.
Favourite place to hang out on campus? The Campus Ice Centre, Vaso's Field or the Campus Tennis Centre!
What would you tell first year students? Show your school spirit and get involved!