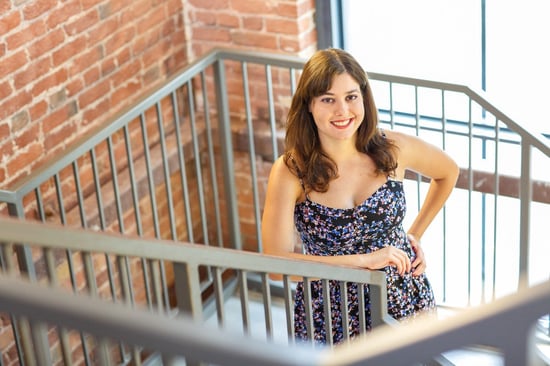 Name: Cristina Mazza

Program of study: Energy Systems Engineering & Management (B.Eng & Mgt)

Year of study: 5th

Why did you choose your program?

I have always loved math and science and wanted to apply my talent in those subjects to something I could make a career out of. When I was 16, I was given the amazing opportunity to work on a research project based on hydrogen as a clean fuel for the future at the Manitoba Science Academy. I learned what being an engineer was all about and the immensely positive impact engineers have on society, and found it was the career I wanted to pursue. Because of my passion for various types of Energy, and my goal to make my mark in such an innovative industry, I choose Energy Systems Engineering. I also decided to take the Management option for my program because I wanted to acquire business skills to complement my technical knowledge for a career as an engineer, or even in a potential leadership position.

What do you want to do after you graduate?

My three post-graduation options as of now are to jump into the workforce, pursue a Master of Applied Science or Engineering, or to switch gears and pursue a Master in Business Analytics. I'm excited about all three options, making this a decision I'm still considering.

What's your favourite childhood toy?

The Beanie Babies collection I used to have.

What's the one food item you couldn't live without?

As a stereotypical Calabrese girl I couldn't live without hot peppers, especially chilies and scotch bonnets. I throw them in with almost every meal I have at home!

Favourite TV show or movie:

The Big Bang Theory

Blog that you're most excited to write:

I'm most excited to write about the Clean Energy Research Lab. I'll feel like a kid inside a candy store during that lab tour!

Favourite past Student Speak blog:

Drone's in Ontario Tech University's ACE. It's the coolest blog I've seen yet (sorry, pun intended)

Top 3 bucket list to-do items:
Qualify for and run in the Boston Marathon, as well as run the Athens Marathon to honour the history of the marathon

Take part in a humanitarian project overseas, possibly with Engineers Without Borders or the Institute of Electrical and Electronics Engineers

Conquer my fear of heights by climbing a mountain
Who is your career idol?
I have many career idols, but right now my choice would be Fabiola Gianotti, due to her soon taking on the role as Director General of CERN, after her leadership role in discovering the Higgs boson
If you could have meet anyone in the world who would it be?
Pope Francis. I'd love to have a conversation with him about many things, but also because his humility and compassion for others is something I find inspiring.
Favourite sports team: Juventus of course!
What's your favourite book?
Reflections on the Motive Power of Fire, by Sadi Carnot
Favourite Durham Region restaurant?
Fazio's in downtown Oshawa for the delicious Italian food and wine collection!
Favourite place to hang out on campus? ACE Building Atrium
What would you tell first year you?
Immediately throw away any notion of what you expect yourself to be like in your final year, and to focus on making the most of your time at Ontario Tech by trying entirely new experiences, and not dwelling on mistakes that come with it. Commit to several challenges that that you consider crazy during your first year, and learn from your experiences. Try out a new sport, develop new skills outside the classroom, or do anything else that involves stepping outside your comfort zone. There is nothing more empowering than accomplishing a task you formerly thought you could never do.
---
Stay tuned for Cristina's innovation and student life blog posts this year!