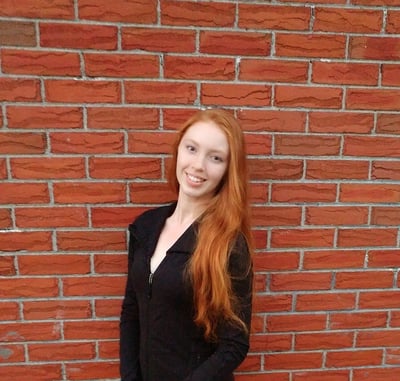 Name: Katrina Villeneuve
Program of study: Forensic Psychology with a minor in Criminology and Justice
Year of study: Fourth Year
Why did you choose your program?
I chose Forensic Psych as I've had an affinity for Psychology throughout my high school years, one could say I was a natural at the subject. I also have a deep interest in crime and criminality where the forensic aspect comes in along with my minor!
What do you want to do after you graduate?
My plan is law school. Most likely Osgoode or University of Toronto!
What is your favourite thing about our university?
The small size and community. Many other universities are very large which makes it hard to get involved and connected. Our university has allowed me to make connections and get involved in ways that would have been less likely elsewhere.
What is your favourite can't-miss university event?
The get involved fair is a great way to bring in the new year and hang out with some friends all while discovering things to do around campus.
What is your favourite past Student Speak blog?
Discover the power of nutrition this March! As an avid health nut, I am all about staying active and healthy! It is extremely important in university to make time for your health and understand the fundamentals of nutrition! The freshman 15 is real and you don't want it sneaking up on you.
What is your favourite thing to do in the Durham Region?
I'm a nature lover and often being in the city fools people into thinking you have to travel long distances to be within nature. This isn't true if you do a bit of exploring! One of my favorite things to do in Durham is going hiking to get some stress relief. There are a few areas around for this, one of my favorites being Heber Downs Conservation Area!
What is your favourite Durham Region restaurant?
St Louis Bar and Grill and there just happens to be one in walking distance of North Campus location!
What would you tell first-year you, in one sentence?
I would tell first year me that university does and also doesn't define who you are! There are choices you will make that will have a lasting impact on your education and future. At the same time there will be things that happen which seem like a big deal but in the grand scheme of things have very little impact!