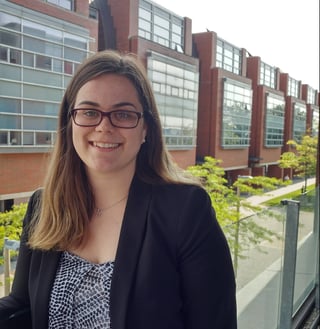 Name: Erin Campbell

Program of study: Forensic Psychology
Year of study: Third

Why did you choose your program?
I actually started out in my first year at a different university in a general undeclared arts program. After attending my first psychology lecture I knew this is what I needed to do, I love it. Like pretty much everyone I want to help people, and I plan to do this through the role of a psychologist. Forensic Psychology provides the education I need to help those who have any interaction with the criminal justice system or the law. UOIT provided me with the opportunity to study this at the undergraduate level and I'm really glad I chose to come here to study this.
What do you want to do after you graduate?
After I graduate, I'm hoping to do a masters in Clinical and Counselling Psychology. After my masters, I'm hoping to become a counsellor probably working with victims of sexual assault.

Blog you're most excited to write:
I'm most excited about writing highlights for my own faculty – Social Science and Humanities.

Favouite past Student Speak blog:
My favourite past Student Speak blog is the blog with the Admissions and Recruitment holiday video. Watch the video and it'll brighten your day I guarantee it.
Favourite food:
Cheesecake, hands down. Any kind.
Favourite Durham Region restaurant:
I'm new to the Durham Region and I'm on a student's budget, so I haven't tried many restaurants but I really like Berry Hill Food Company in downtown Oshawa, they have really good eggs benedict.
What would you tell first-year you, in one sentence?
It's okay that you don't have it all figured out yet, soon you will.