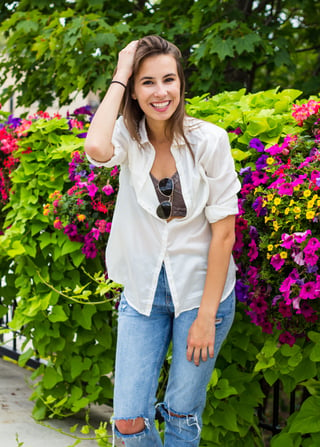 Name: Emily Rowsell
Program of study: Community Development and Policy Studies with a Minor in Communications
Year of study: 4th
Why did you choose your program?
I was originally in Communications but after taking a few community development electives, a professor of mine asked if I would want to switch programs. I loved the idea of taking part in a brand new program and having the ability to shape our courses so it seemed like the perfect fit!
What do you want to do after you graduate?
Start my own content creation company!
Blog you're most excited to write:
All things university prep! I was so nervous when I first started so I'm excited for the chance to help other new students and ease their nerves!
Favourite past Student Speak blog:
Probably the UOIT: Style post I did last year! I got to talk to many different students about fashion which is one of my other main interests!
Favourite food:
Chocolate – all things chocolate.
Favourite Durham Region restaurant:
Felicio's Cake Boutique! The mini sweets are my guilty pleasure and they have a lovely, simple lunch menu you! For downtown students this is a must!!
What would you tell first-year you, in one sentence?
Nothing is the end of the world. There are always back up options, always a chance to try something different, and always an opportunity to learn when something goes wrong. DON'T FREAK OUT EMILY.