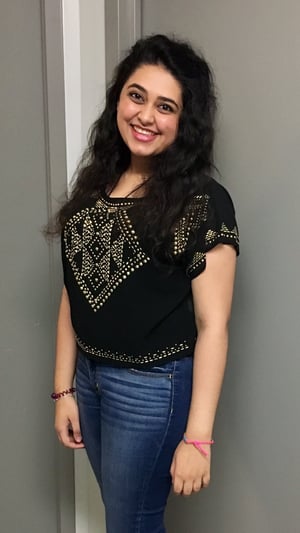 Name: Disha Melwani
Program of study: Communication & Digital Media - Advanced Entry
Year of study: Third year
Why did you choose your program?
I graduated from the Journalism program at Seneca College and always wished to expand my knowledge in the communication industry. My goal is to understand more about the effects of communications on society incorporating new platforms such as social media and digital journalism.
What do you want to do after you graduate?
My ideal job would be either broadcasting (on TV or radio), writing or editing. However, I would love to work as a multimedia journalist as I have a strong interest in photography, social media and digital journalism.
What is your favourite thing about our university?
I just love how convenient both of the campus locations are in terms of housing, public transit, food and other facilities.
What is your favourite can't-miss university event?
The September orientation events, for sure. It's a great opportunity to make new friends and get to know your surroundings.
What is your favourite past Student Speak blog?
I really liked the content, as well as the layout of Six Ontario Tech university life hacks written by Shelly Kowalski and Top 7 Instragram photos of our campus written by Emily Rowsell.
In terms of the first one, it's great to get those hacks especially if you're a new student. This way you will actually know how to make the most out of your experience at our university.
In addition, the second one really inspired me as I'm a photography enthusiast.
What is your favourite thing to do in the Durham Region?
It's going to be my first year staying in the Durham Region. However, I have heard that the Waterfront Trail area is a great place to visit!
What is your favourite Durham Region restaurant?
Out of the few restaurants I visited over the summer in Downtown Oshawa, I would pick Oshawa Thai Cuisine, the food is great and at a great price. Plus, it's just walking distance from the downtown Campus location.
What would you tell first-year you, in one sentence?
Don't rush things! Everything has its own time and its own clock.