Two weeks into recruitment season, I have to say that there are many things I expected with this job but many more that I did not. Firstly, I've been pleasantly surprised by the number of grade 11 and 12 students that have shown thorough drive and initiative when it comes to post-secondary learning. The number of students that came to the Ontario Universities' Fair (OUF) on their own and for their own reasons was very encouraging and makes me proud of what we are doing. These students really know what they want and it makes me feel so good when we can provide it for them.
I hope that everyone keeps working hard toward their post-secondary goals because being accepted to university is a huge accomplishment and milestone in itself. If I see any of you at our Open House I will feel like I did my job, and my hope is that you realize how many opportunities I have seen Ontario Tech University offer to our students.

Throughout recruitment I am also seeing many students that are not really sure what they want to do (don't worry, to be honest I hadn't a clue when I was 17 either!) The important thing for you to know is that you are not alone; there are many students in your current situation. It can seem like there are a lot of outside pressures associated with picking a university, but what I think is most important is that you as a student are the happiest with your decision. Ontario Tech offers many foundation year programs, so you are not locked into one specific thing as soon as you come to school; this is something that certainly would have been very helpful to me throughout the school selection journey.

The most important piece of recruitment information I want to offer to high school students is to take the time to do research. My hope is that your selection process will be more than just gathering up as many viewbooks as you can and leaving. Yes, these books are extremely informative and important but I'm here to help you as well. All of us liaisons are here to ease the important questions you might have in regards to university. Please ask questions!

Finally, the very most important part of your research should be about visiting EVERY university that you are interested in. This especially goes for students who are completely unsure about what they want to study. The look and feel of a campus can be everything that you're looking for in a study space and the programs can just fall into place after that. In fact this is exactly what happened to me for Ontario Tech. I took the time to visit the campus and fell in love with it. I then had more of a fire under my bum to research programs thoroughly. It actually made me excited and more motivated to do the research. I urge all of you to do the same and to ask as many questions as you can; without questions there are no answers and my job has taught me that all the information you need is readily available to you. I am here to help and I have a special empathy for those who are unsure.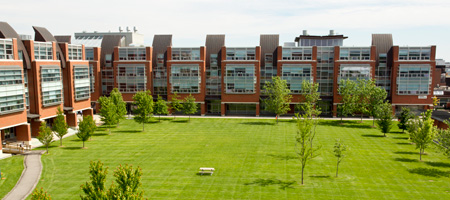 A message for you: we are all in this together! Ask the questions, get the answers and visit! Immerse yourself in every part of what you want to learn about university life and go from there!