Hey readers! Welcome to my first food blog and my first Korean BBQ experience. Today I'll be telling you all about the Ice Bar Cafe, located at 10 Simcoe Street North, here in Oshawa. If you're a student at the downtown location, this is very close to you as it is just north of the King/Simcoe intersection! If you're heading to the Ice Bar Cafe from the North location, just hop on the 401 Simcoe South bus, get off at the King Street stop and walk over!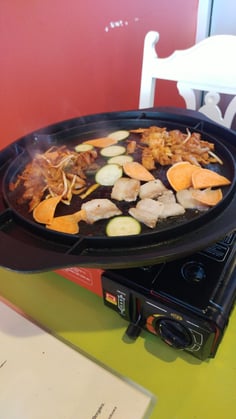 I ordered the Korean BBQ, it was my first time getting this so for any other newbies out there I'll explain how it works as I understand it. I ordered from the lunch menu, which is $16.99 (but there's a 10 per cent off student discount!), so I did not have the full menu options for meat, but if you go at dinner time you have a lot of meat options, for $24.99. It is all-you-can-eat style. The menu has options for meat, vegetables and side dishes, and you write down what kind of meat, vegetables and side dishes you want, as well as quantity. So to start for the meat, I ordered one each of the pork belly, spicy chicken and spicy pork. For vegetables, I ordered bean sprouts, zucchini, sweet potatoes and lettuce. Finally, I ordered kimchi as a side dish.
You get brought a grill and have it set up for you, and then you're brought all of the food you ordered and some tongs to cook the meat. In the picture to the left, you can see that I put everything on the grill minus the lettuce, because I had plans for it. It smelled so good, cooking right there in front of me! I was a little skeptical at first about cooking my own meat because I didn't know if I trusted myself to do that, but it turned out really well—I think I cooked everything perfectly! I added the kimchi and bean sprouts to the spicy chicken and spicy pork, and then cooked my other vegetables and the pork belly next to it.
Once I was satisfied with how cooked it was, it was time to eat—the best part! I did this in two ways. I ate some of the meat and vegetables just with my chopsticks off of my plate. But the best way to eat it was taking a leaf of lettuce, adding in some meat, adding vegetables, putting some more Kimchi and bean sprouts on top and then folding it up. All of that together was so good! I'm serious, you have to try that.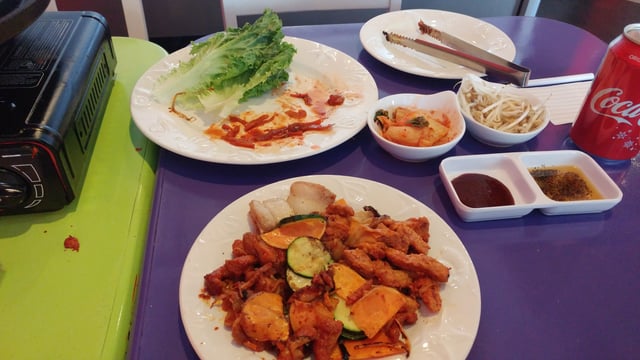 Out of the three kinds of meat I got, the pork belly was my favourite. It was so tender and juicy, and really flavourful. Don't get me wrong, I really liked the spicy pork and the spicy chicken too! If you're not a big fan of spice, don't worry. It was not very hot, it just had a little kick to it! Once I was done, I was full and was saving some room for their signature dessert. But if you are not full, you can keep ordering more as long as you can eat it. So if you're in a group, fear not—you will all leave full.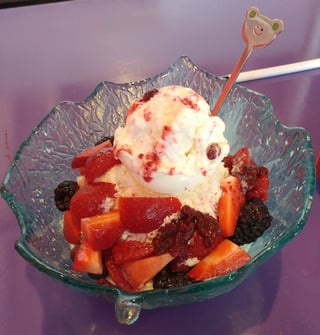 The Ice Bar Cafe is named after their signature dessert and when you order the Korean BBQ then you get 30 per cent off drinks and desserts. So, naturally I had to try the bingsu. I got the Berry Trio Bingsu, and spoiler alert: I loved it. Let's just say there's a reason that bingsu is their specialty! If you don't know, bingsu is a Korean dessert that is shaved ice, topped with ice cream and your choice of toppings. I ordered the Berry Trio Bingsu, but there were tons of other kinds and toppings you could get. I would highly recommend the berry one. The combination of the fruit, shaved ice, ice cream and the fruit syrup was everything I now need in a dessert. Ice Bar Cafe also has a ton of other desserts, but I was getting very full at this point, you can see how big the portions are, so unfortunately I only had room for the one.
If you find yourself looking for somewhere to eat after class while you're downtown, or looking to eat something a little different than what you usually find in Oshawa, then head over the Ice Bar Cafe! If you go at dinner time, I've been told you have to get the ribs! So try them out for me and report back. My first Korean BBQ experience was a good one and I will definitely be having it again!