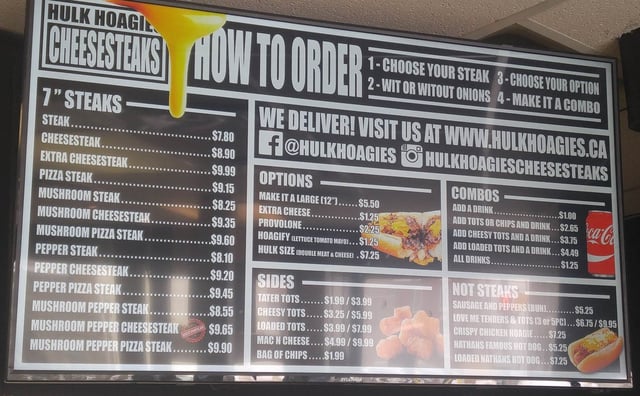 Hello Student Speak readers! I hope you're ready for a mountain of food today, as we enter the realm of glorious, glorious cheesesteaks! This month, the feature is a new local Oshawa spot right downtown, called Hulk Hoagies CheeseSteaks. They are located at 92 Simcoe Street North, Oshawa, ON. This is right near the downtown location, just north of the Bond/Simcoe intersection, the last store on the left-hand side. To get to this glorious new food spot from the north location, it would be the 401 Simcoe south, and then a short walk from the bus stop. For those already downtown—save yourself the bus because it is just the walk! For those driving, it is on-street paid (until 6 p.m.) parking downtown. In case you didn't want to do any commuting at all...they deliver!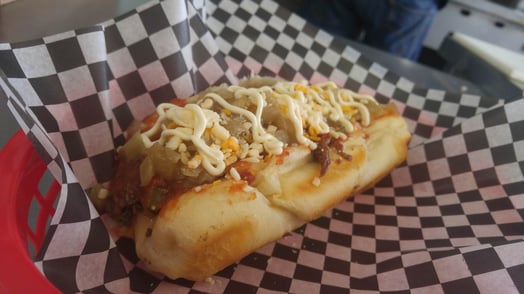 Ordering at Hulk Hoagies is an easy four-step process. You first choose your steak, which I chose the pepper pizza cheesesteak, pictured above. Then you determine whether you want it "wit" or "witout" onions, choose any options you would like (make it 12"! Extra cheese! If you are feeling bold you can Hulk size it for double meat AND double cheese) and then the last step is to make it a combo if you wish. Easy, right? Follow this four-step road to a cheesesteak, and I can promise you that you will not be disappointed. The menu is pictured above—you can order multiple different varieties on a classic cheesesteak, and instead of the usual fries, their sides are tater tots!
Now I know the priority here is the food, so let us get right to the rundown. First, let me say that a 7-inch bun might look small before it has been loaded full of cheesesteak, but I had the 7-inch with a side of tater tots and a drink and I was definitely content with the amount of food, I do not know how someone could Hoagify it, eat it, and walk out comfortably, but if you believe yourself up to the task, I wish you luck! The meat was flavourful; it is cooked right in front of you so you can see the magic in action directly. It had a bit of a pepper taste, but the real kicker was the garlic sauce on top. That garlic sauce is heavenly, and I cannot wait to put it on another cheesesteak again. The buns are fresh, quality bread, which is necessary given how much those buns have to hold! There is a classic cheesesauce you may put on it as well, but I opted for shredded cheese instead, simply for personal preference. Overall, it is a delicious medley of onions, green peppers and glorious steak that I would recommend to any hungry person out there.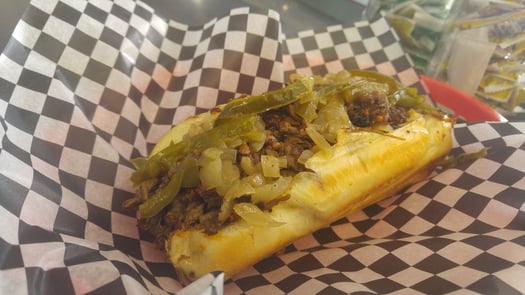 If you are looking to get yourself a classic, Philly-style cheesesteak, you can look no further than Hulk Hoagies. This monster was covered in onions and green peppers, on top of a mountain of steak. Like the pepper pizza cheesesteak, it was prepared in front of my eyes and you can watch the meat sizzle as it cooks in the BBQ sauce. With cheese underneath and vegetables on top, the steak is nestled nicely between the toppings. I think the picture says it all, but the train of deliciousness did not stop for a second. The meat is saucy, cheese cheesy, and vegetables nicely sautéed. Combined together on a fresh bun, and you have the perfect recipe for a food coma, especially if you Hoagify it. If you are a hungry person looking for some local Philly-inspired grub, then let me direct you right to Hulk Hoagies, because they will fix you up in no time at all!