Hello future Ridgebacks!
It's getting closer to that time of year where students start applying to university. And that's tough! One of the most popular question I get asked is: "Help! How do I decide which university to go to?"
If you're like many students, you've gone to the Ontario Universities' Fair or University Information Program, met with university recruiters at your high school and taken home lots and lots of viewbooks. So, now what?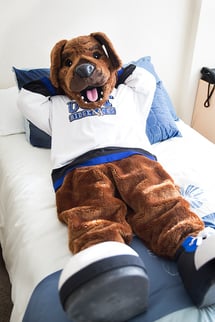 How do you possibly narrow it down?First, some reassurance! All of the Ontario universities are great! My recruiter friends tell me that they're all mandated by the Ministry of Advanced Education and Skills Development. That means that while universities have different programs and styles, their quality of education is the same! You're going to get a great education no matter what! Phew!
Now back to how to decide. Read through all of those viewbooks or look at the websites for the universities you're interested in. Start to narrow it down by which universities offer programs and options that appeal to you. Also, does the location of the school interest you?
After that, it's time to hit the road! Visiting the campuses is the very best way to find which school is right for you! You're going to be on campus for the next four or five years, make sure that it feels like home! That's why I chose Ontario Tech - students here love dogs and the Ridgebacks varsity teams are awesome! I also love curling up in my big double bed in residence.
Enjoy this time exploring the universities you're interested in, and hopefully we'll see you next year!
Your pal,
Hunter the Ridgeback