Well hello there!
My name is Amber Vibert, and you may or may not know me, but I hope that in time you will get to know me! I've been a student here at Ontario Tech for five years, studying to acquire a degree.
In what? Anything! I'll take any degree! As long as it has my name on it and I can hang it on my wall.
I'm kidding of course, but that statement is probably pretty accurate in describing the way I was feeling in grade 12, trying to decide what I wanted to do with my life for the next four years and beyond. What can I tell you? I'm still figuring out where I want to be; for the time being, however, I'm where I need and want to be, and that's thanks to Ontario Tech (don't worry, my intent to rhyme is minimal thus forth).
I'm going to tell you how I discovered that Ontario Tech was the right fit for me. It all began a long, long time ago when I was immersed in the performing arts program at my high school – an avid band geek if you will. Refer to exhibit a. for proof.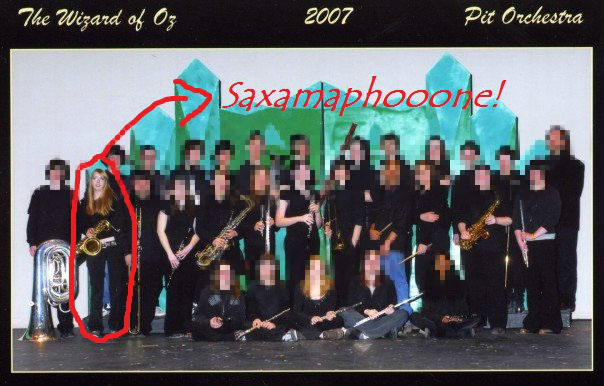 My only question was, "Do I have what it takes to succeed in a post-secondary music performance program?" My less-than-confident and not at all self-assertive personality replied with "Oh, uhm, probably not, you'd better look into something to fall back upon". My thought process led me to business! Why? Because there are so many things you can do with a business degree. This is very true, but folks, I'm absolutely terrible at anything relevant to math so there's a bit of foreshadowing on how my first year of university went.
I applied to four universities: Ontario Tech University, Carleton University, University of Toronto, and Wilfrid Laurier University. I knew nothing about these schools other than this: Ontario Tech is close to home, and they have a Commerce program!; Carleton has a Commerce program and I've heard great things about it; U of T has a business program, and, well it's U of T, who wouldn't want to go there?; and Laurier has a business program and my best friend is going to go there. That is LITERALLY all I knew about these universities and I felt informed enough to make such a big decision. I can't believe how much I was missing out on!
I didn't attend any university visits to my high school, I didn't speak with my guidance counsellor, I may have attended one fair, and I can hardly recall if I went to the Ontario Universities' Fair (OUF). I was too afraid to ask questions, I had no idea what I was truly looking for, and I missed opportunities to develop the best plan for my future.
I got accepted to all the universities I applied for, and chose to go to Ontario Tech because it was ten minutes away from my house and the small class sizes were very appealing – not to mention I would be saving a ton of money living at home! I knew just by being present at Ontario Tech that it was a great university, with a beautiful new campus, and that it would grow in prestige. Unfortunately, I didn't feel as though I was in the right program; I couldn't enjoy what I was learning about, and my marks reflected that.
It wasn't until an Introduction to Criminal Justice elective sparked my interest that I began to formulate a new plan for my academic path. I then started my first year in Criminology and Justice and took a year off afterwards. It took a year of Second City and self-discovery to truly get myself focused on university. I won't discuss transferring from one program to another, but what I can say is that I graduated with a Bachelor of Arts (Honours) in Criminology and Justice with a Criminal Justice specialization in the spring of 2014.
As soon as my classes were done, I began applying for jobs, including a Student Recruitment Officer position here at Ontario Tech. In July 2014 I began working in this position and I would not have been able to get here had it not been for the support system that I had at Ontario Tech, including my academic advisors, my professors, my practicum co-ordinators, and my fellow students whom I've met through various aspects of university life – including clubs, orientation, and student services. Now I work with these amazing people who are here to help you NOT 'pull an Amber': being a confused and uninformed high school soon-to-be graduate!
So please do me a HUGE favour and visit the universities you're interested in, book a campus tour, keep an eye out for us at your school or OUF, and don't forget to ASK QUESTIONS! The Ontario Universities' Fair is September 19th, 20th, and 21st from 10:00 am - 5:00 pm at the Metro Toronto Convention Center!
Here's our team!