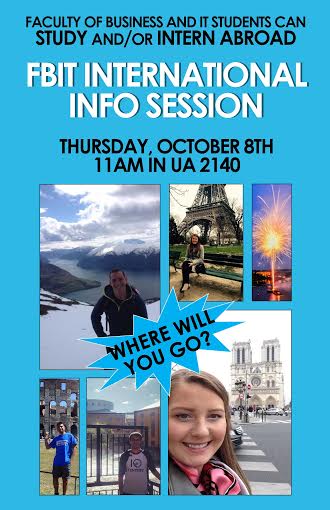 Whenever I walked along the hallways of Ontario Tech, I always had this itch to look at each poster and see what was new on campus. I wanted to see what Ontario Tech had to offer, outside of the routine classroom lectures and tutorials.
The one poster that caught my eye and changed my outlook was a poster about an upcoming information session for the Ontario Global Edge (OGE) program.The OGE program allows Ontario Tech students to work at start-up companies across the world. The concept is that students who go abroad can take their experiences they had overseas and apply it to companies in Canada to make Canada more competitive in the global marketplace.
I gathered the friends who were also interested and went into the information session expecting just facts, forms and questions. What really happened though was that past participants of the program came to talk about their travels, the unique work experiences that they had and how supportive Ontario Tech was. Facts were kept to a minimum, forms were distributed only at the end and I found myself captivated by the stories I was being told. The moment the session ended, I picked up the forms that I would need to apply. Each country had its own separate form (the list of countries being Spain, Portugal, Germany, Austria and Hong Kong), so I grabbed the ones that interested me the most: Germany and Hong Kong.
Just like an essay, the application process was lengthy. Not only were transcripts and references letters necessary, but so were formal interviews. I would be lying if I said that I was not afraid of the interview. I was judged on my ability to be an ambassador to the university while showing my desire to own my own business someday. I felt every answer being analyzed, down to the bone. When I left, I honestly felt as if I might not be cut out for the program. To my surprise, a few days later, I found out I had been accepted into the Hong Kong program!
To say that I was ecstatic would be an understatement. In the months leading up to the trip, I knew I would have to prepare myself for what was to come.
In between filling in forms for visas and insurance were the thoughts that kept circling in my head: What restaurants should I eat at? Where else should I visit in Asia? Which clothes should I be bringing over? Coupling these thoughts were the farewell hangouts I scheduled with my friends and family. Everyone was extremely supportive, wishing me luck and hoping I had a great time.
When I entered Toronto Pearson airport in early June, it was still slightly surreal that I would be spending the next two months in Hong Kong. The tickets given to us by Ontario Tech gave us a flight at 7 a.m. At first I was not a big fan of leaving my house in Hamilton at 3 a.m. but in hindsight after a lot of traveling, it was a blessing in disguise. This meant that there would be no lines up for customs.
After boarding the plane, the nerves started to finally kick in. I am going to be away in another continent after this 12-hour flight. I won't be able to see my friends or family for the summer. As I buckled my seatbelt and prepared for takeoff, I knew that my adventure was just getting started.
To be continued..