"Ever wished your computer could respond to your thoughts? Good news – it can."
This is the line with which Tobii -- the world's leader in eye tracking technology -- showcases its futuristic EyeX peripheral. What's more is that the technology described by this line is coming to Ontario Tech.
You may have recently read Student Speak Innovation blogger Dimitri's excellent entry on Ontario Tech's GAMER Lab. Remember the game of Asteroids played solely with the eyes? (If you don't, go back and read about it -- it's fascinating stuff.)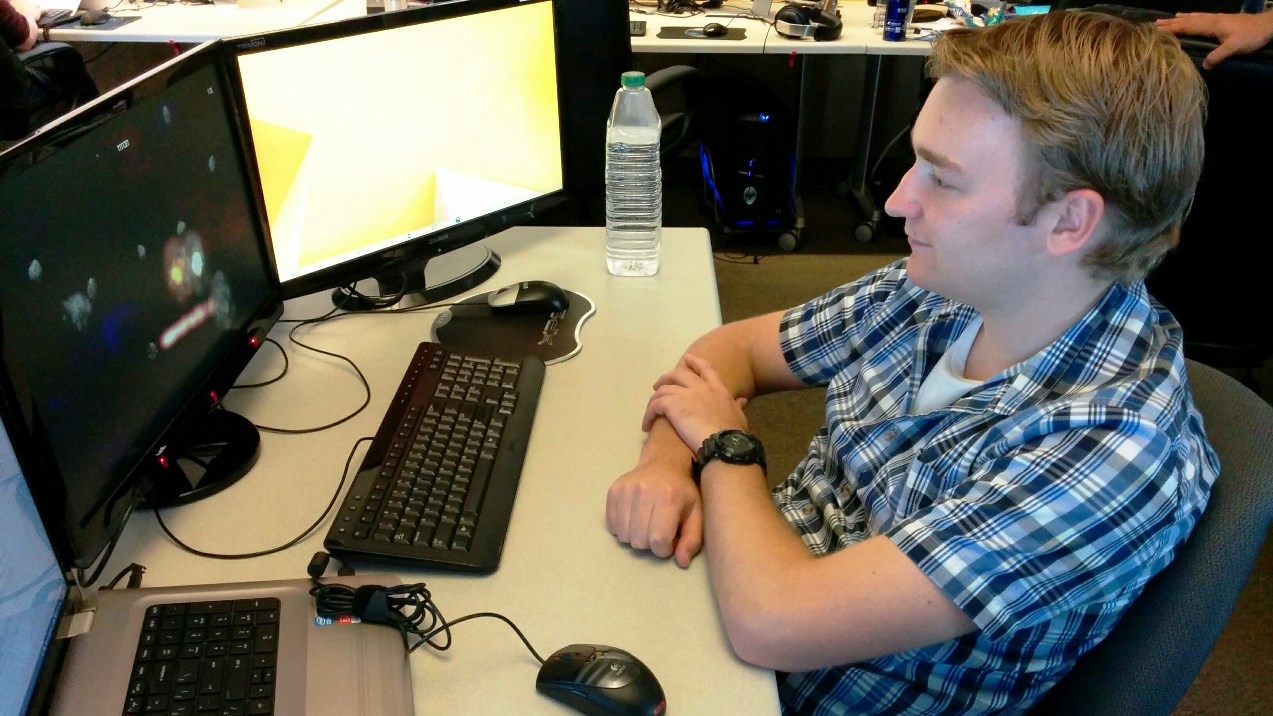 Ontario Tech's research intern Henk-Jan demonstrates the GAMER Lab's eye tracking technology.
Since Dimitri's blog was published, it's been revealed that the technology that makes such a game possible is now being provided to students through a partnership between Ontario Tech and Tobii. Game Development and Entrepreneurship students at Ontario Tech will work with the EyeX peripherals while completing semester-long gaming projects. The semester's work will be unveiled at the Ontario Tech LevelUp showcase, which at over 2,000 participants is the largest student gaming showcase in the country.
Run a Google search on 'eye tracking technology' and Tobii will likely show up near the very top of your results; my own search placed Tobii's website second, ceding the top space only to Wikipedia. On its site, Tobii provides a quick run-down of eye tracking technology.
According to the company, eye tracking has so far been used primarily for two purposes: to enhance user interfaces on computers and to better understand human behaviour. It's been used by scientists and psychologists to study the movements of the human eye, for example. It's also allowed computer users to control devices with their vision. It's this latter use that Ontario Tech and Tobii's partnership centers around.
Of course, this is all well and good, but it's hard to see the practical uses of this technology when talking about it in terms of business deals. Let me show you the impact that this can have on peoples' lives.
In Dimitri's blog entry, research intern Henk-Jan expressed his hope to use eye tracking technology to create health games for people with motor disabilities. Medical News Today recently gave an example of this kind of case: that of Ruby Hamilton, a 10-year-old British girl with cerebral palsy. Ruby is a smart child, but she faces incredible physical challenges. Many children with cerebral palsy have difficulties with motor skills, co-ordination and speech. Early in life, Ruby communicated through laminated cards she would indicate toward with her eyes, and later moved on to a laptop paired with the 'Clicker' computer program. However, these were both somewhat difficult and time-consuming for her.
Eventually, Ruby tried using a Tobii I-12 eye tracker and showed significant improvement. Her mother reports that the device -- which features speech output -- has given her a voice and a critical sense of independence (and yes, she also uses an eye tracker to play video games). For a long time, Ruby's family was heartbreakingly unable to afford the cutting-edge technology, but were eventually able to raise enough money through children's charity Tree of Hope. They can still use donations as they will likely need to keep buying new pieces for Ruby, so feel free to contribute. It's my personal opinion that this technology should be accessible to all who really need it, so I encourage you to give your support if you can.
People who are 'disabled' are not disabled intrinsically -- they are disabled by a society that doesn't accomodate their needs. In fact, according to Medical News Today, the National Institutes of Health say that children like Ruby often lead near-normal adult lives if they can manage their disabilities. People like Henk-Jan are trying to help them do this, to change the world so that more people can participate in the global conversation. Let's hope that Tobii and Ontario Tech's partnership can be the first step to realizing these ambitions.