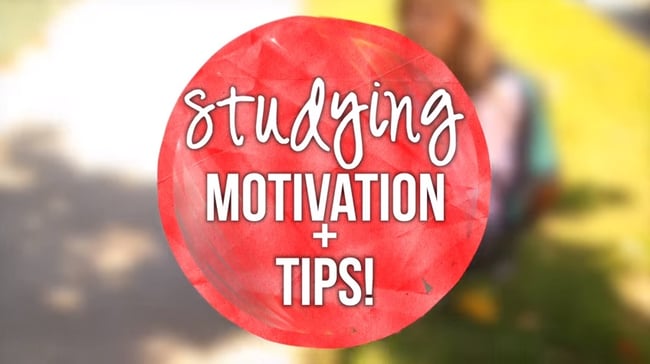 Next week is the final week of fall semester courses! Aren't you excited? However, the end of the semester is not truly here yet, since in these following weeks many students will be finishing final assignments and studying for exams.
Whether you are a first-year or an upper-year student, developing effective study skills along with organization during exam season can be difficult. In one of my previous blogs, I described several resources available at Ontario Tech to help students succeed academically. However, in this stressful time, I thought it would be beneficial to also include some videos that describe different tips and tricks in order for students to get the most out of their studying.
1. Study tips and motivation for school:
When studying, one of the first things to consider is creating a designated study area that is free of distractions. As mentioned in the video, you should preferably study on a desk rather than a bed since you will be more inclined to work while sitting upright rather than lounging.
However, comfort cannot be compromised while studying since this study area will be used for extended periods of time. Therefore, have all your study materials ready and available in this area, along with a beverage to keep you hydrated.
While studying at home is preferred, many students may commute and spend most of their time at school or outside of their home. If you are this kind of student, try to find a quiet area at school, a local library or café and make this into your designated study area.
2. The 9 best scientific study tips:
This video describes scientifically proven methods of studying, along with reasons behind their effectiveness. One key study tip mentioned at the beginning of the video was to study for shorter time frames over several weeks rather than one large study session a couple of days before an exam. By studying in smaller sessions over a long period of time, your brain retains information better. This study strategy also causes less stress for students, as they are more confident in their understanding of concepts.
Finally, once you feel that you have a good grasp on the course material, you should look into completing some practice tests. Practice tests are an excellent way to ensure your studying has been effective. As mentioned in the video, it also identifies gaps in your knowledge so you can alter subsequent studying to review those areas.
3. 5 study DIYs & tips to stay organized at school:
In addition to practice tests, other methods of ensuring your understanding of the course material is by having someone else test you on it. Preferably, you should have someone from your class test you. If that is not possible, have a family member or friend test you from flashcards you have created that contain answers. Whenever you study with a partner, make sure that you stay on task and don't get sidetracked.
The second half of this video demonstrates a great tutorial on how to make an organizational calendar to help keep track of upcoming exams and final assignments. While a lot of effort was put into the calendar in the tutorial, a dry erase whiteboard calendar can also be used. These can be bought from any office supply store and will do just as good of a job in helping you stay on track during exam season. You can also create your own reward system and attach it to the calendar.
4. Study smarter not harder: school "cheat" tips
Throughout this video, many great tips were mentioned in regards to studying and working on assignments using technological tools. While the traditional paper-based flashcards are a classic and effective way of studying, they can also be created online, using several websites such as Study Blue and Quizlet. The apps for these websites can also be downloaded in order for you to study on your smartphone. Whether you are on the bus, in line at the bank, or grabbing a coffee at Tim Hortons, there is no excuse for not being able to study!
Another way to make studying even more accessible for a busy lifestyle is by syncing all of your notes and PowerPoints to your devices. This way you do not have to carry around a heavy laptop everywhere you go, and can use your smartphone or tablet instead.
---
Did we miss any study tips and tricks? Comment below with your favorite study tips!
---