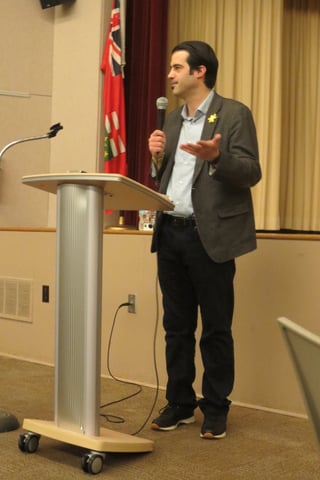 Ever given a speech? If you have, you'll know that it's a nerve-racking process.
You get up in front of an audience and everyone is looking up at you and waiting for you to tell a story, or give them some kind of motivational wisdom that might be relevant to their lives.
And there's a lot to think about when you're giving a speech—like determining what an audience will be interested in and trying to communicate that in a confident and charismatic way.
Public speaking is not exactly everyone's forte, and while giving one speech might be pretty anxiety-inducing, imagine giving 23 speeches in the span of 24 hours.
It sounds crazy, but it's exactly what was done by Franco Scanga, Manager, Technology Assets at our university.
In an attempt to break a Guinness World Record for most speeches given in 24 hours, Franco spent one day delivering 23 speeches to 23 different audiences. The cause? Fighting his fear of public speaking to raise money for cancer research.
With the current world record at 21 speeches given in 24 hours, Franco's attempt didn't just prove to the world that he could fight the fear of public speaking, it was also a fight to end cancer, having raised over $13,500 in the process.

So, what kind of preparation goes into something like this, and how exactly did Franco get over his fears and deliver 23 speeches in one day? Read my interview with the man himself, below:

Q: 23 speeches in 24 hours is ambitious. How did it go and how do you feel?

A: It was both terrifying and exciting at the same time. The day went very well. I had a lot of help from a core team of volunteers (including an experienced campaign chaperone), who helped keep the event on track and on time. That high level of organization enabled me to stay relatively calm and to focus on the speeches, messages and audiences.

Looking back it feels great, because over the year and a half of planning the event, I had visualized it exactly the way it unfolded. When an event of this scale goes as planned, it's a great feeling.

Q: Why is this cause close to your heart?

A: My father and aunt were recently faced with cancer. Their courage motivated me to challenge myself in the most extreme way possible. This event was as much for them and many others in my life that have battled cancer as it was to break a world record. Often times, we think about those we have lost and what we would do differently if we had a second chance with them. My father and aunt were given second chances and I wanted to make the most of it by supporting them in the most unique way possible. My thought was that if I can't give them the world, I can try to at least give them a world record.

Q: What were your speeches about?

A: The speeches covered topics from my own experience in this challenge leading up to the event including adapting to change, the value of fear, persistence, momentum, challenging comfort zones, support systems and "staying on course" in the face of obstacles. Each specific topic was related to the audience and I shared 'stories of hope' from the Canadian Cancer Society.

Q: How did you come up with the ideas for the speeches?

A: The speeches were essentially a narrative of the personal challenges I had faced in undertaking this event. The overall theme of the event focused on facing one's fears and challenges, and so each speech talked about a specific obstacle I had overcome and the lessons I had learned in the process for audiences to apply to their own professional and personal lives.

Q: What were some of your worries before the day and how did you try to overcome them?

A: To be honest, my primary concern was whether or not my voice would hold up throughout the day. Although I had experts advise me on how to prepare my voice for the event, I had to remain conscious of the effects of delivering two speeches an hour for 12 hours. Apart from that, I tried to have as much fun with the event as possible, and not to worry about anything else. Staying positive in the face of the challenge helped to keep all other concerns at bay.

Q: Were there any challenges on the day that you had to face?

A: Yes, 23 challenges to be exact. Since each speech and audience was unique, I had to constantly adapt to ensure I delivered each with a consistent level of energy. As a result, each speech provided me with a different type of anxiety that I had to overcome all the way to the end.

Q: What kind of preparation went into the speeches?

A: Since the challenge required each speech to be 'spontaneous', I had to develop a method to recall information from 23 different speeches. Not only did I prepare the speeches and notes well in advance, but I also had to develop a unique speech structure specifically for this event. Traditional speech structures simply could not be applied to the volume of information I had to recall, so I prepared ways of outlining speech material that worked well in not only relaying the messages, but in ensuring that the main points were delivered to the audience.

Q: If you could give someone who isn't particularly good at public speaking a few tips what would they be?

A: Find as many opportunities to speak to an audience as possible, whether it be in a department, team or social club you may be a member of. Public speaking may not be something that can be perfected, but one can become more familiar with the act of speaking to a group. For me, joining Toastmasters enabled me with a set of tools to use for practicing public speaking in an environment that encourages positive feedback. It provided me with the opportunity to improve my public speaking with every speech.

Q: Any advice for someone who wants to do something to raise money but isn't quite sure where to start?

A: This was my first attempt at a fundraiser or charity. For anyone thinking about doing something to raise money for a cause, I would say to jump in with both feet. With a strong purpose in mind, start by reaching out to local organizations or groups who have traditionally supported similar causes. They would be a great source of experience and can provide valuable advice.

It is an amazing feeling when you get a community of people from all walks of life to collectively support a common (and personal) cause. Don't get discouraged! If you truly believe in your cause, you will find a way to see it through. The worst thing that could happen is that you will walk away from the experience forever changed for the better. I know I was!