This month students have the rare opportunity to come out and support a team whose short season leave them little chance to host a competition at home.
The annual Varsity Dance Showcase hosted at the downtown Oshawa location in the Regent Theatre allows the dance team to showcase all of the dance routines they've been working on for their competitive season. The showcase will feature current and alumni dancers, with a variety of dance styles such as lyrical, contemporary, jazz, tap and ballet.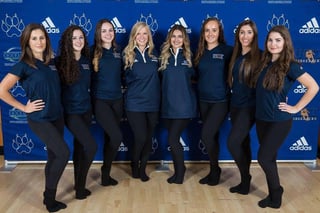 For third-year Forensic Psychology student Brianne Dallas, being a part of the dance team for her three years at Ontario Tech University has enhanced her experience in and outside of the classroom.

"Being from Oshawa, I live at home and commute to the downtown Oshawa location," Dallas explained. "Often I miss out on a unique university experience that others might get from living in residence. The dance team has helped to enhance my Ontario Tech University experience because it has offered me that missing piece." She went on to say that trying out for the dance team in her first year was one of the best decisions she made in university, as it has made her experience that much better.

As dance is a demanding sport, and a background in dance is crucial to success, trying out and becoming a part of the team is also a good way to continue training while away at school. For fourth-year Kinesiology student Jessica Cohan, making the team in her first year was also important to her university experience.

"In my first year when I auditioned, I was so happy to make (the team) because it would enhance my university experience and I could still dance while I was in school," Cohan said. "I knew I needed that, as I've always had dance in my life since I'm so passionate about it. It's been amazing to share that passion with my team over the years, and I've been inspired by other girls on the team."