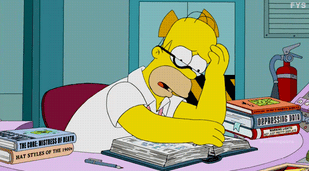 Adjusting to university can be stressful and, at times, overwhelming. One of the hardest things is to learn all the terms and their meanings. To make things easier, I've compiled a list of some of the most commonly used terms for easy reference.
Academic advisor
Academic advisors are here to assist students in making important choices to succeed academically. Academic advisors are available in each faculty.
Find your advisor on the Ontario Tech website.
Academic standing
A student's official status of enrolment at the university as evaluated at the end of each semester. Standing is used to determine whether students are meeting university standards in order to continue studying in their program of choice.
Academic misconduct
Academic misconduct goes against the university mandate to maintain honesty and fairness including the intellectual property of others. Some examples of academic misconduct are: cheating on an exam or an assignment, plagiarising, or lying about an illness. Any plagiarism or academic misconduct may lead to dismissal from the university.
Blackboard
An online learning system and portal used to access course material, submit assignments, read announcements, and view assignment grades.
Bursary
A monetary award given to a student based on financial need.
Credit hours
The measure used to reflect the relative weight of a given course toward the fulfillment of degree requirements. Unless otherwise indicated, a course normally has a credit hour value of three.
Cumulative
Most commonly used when describing GPA or examinations. Cumulative means successive additions, or including everything. When referring to a final exam, the term cumulative mean that all course material will be covered, instead of just one half of the semester. When referring to GPA, cumulative means that it is taking into account every single mark throughout your academic history at the institution, not just one year or one semester.
Dean

The head of a faculty.
Dean's Honours List and the President's List
Students who receive a semester GPA of 3.5 to 3.79 at a minimum of 80 per cent course load will receive the Dean's Honours List designation on their transcripts. Students who receive a semester GPA of 3.8 or above at a minimum of 80 per cent course load will receive the President's List designation on their transcripts.
Degree
A degree is a credential based on academic achievement that you would receive at the end of successfully completing all the requirements of your university program.
Diploma
A diploma is an academic credential awarded to a student at the end of successfully completing all the requirements of a diploma program at a college or university.
Faculty
A department at a university that includes multiple programs covering similar disciplines. For example, the Faculty of Social Science and Humanities at Ontario Tech University includes five programs, each focused on different disciplines in the social sciences.
Final examination
Final examinations are tests held at the end of a semester that cover all or a large portion of material learned within the semester.
GPA
A grade point average, measured in two forms. The first, by semester and the second, by courses completed overall.
Graduate programs
All programs that require an undergraduate degree to apply. Most commonly known as Masters or PhD level programs.
Lab
A mandatory class that supplements learning in lecture. Labs teach experiments and tests in a controlled setting that provide opportunities for practice and observation in small groups. Labs are led by teaching assistants and lab technicians.
Letter of Permission
Students must obtain a letter of permission when applying to take a course at another institution.
Major
A set of courses in one area of study within a specified program. Usually equaling 30 credit hours.
Minor
A set of course in one area of study within a specified program. Usually equaling 18 credit hours.
MyCampus
Your personalized network to find all important information, announcements, account information, course registration and academic standing.
OSAP
OSAP is a government-run student funding assistance program. Students may apply whether they are full- or part-time. OSAP offers a variety of grants, bursaries and loans and can be applied for online. For more information or help applying, visit the Student Awards and Financial Aid office.
Prerequisite
A course that must be successfully completed prior to commencing a second course for which it is required.
Program map
Your personalized description of courses you must take to receive your degree.
Registration terms

Terms such as CRN, Subj, Cap, Act and Cred are all terms used when registering for courses. Visit the registration terms page for a full list of terms and meanings.
Student Awards and Financial Aid (SAFA)
A department within the university that provides assistance with (but not limited to) financial aid applications, bursaries, donor awards, external awards and scholarships.
Scholarship
A financial award based primarily on academic merit, although other criteria may be considered based on donors' requirements.
Syllabus
The course guide provided at the beginning of the semester. The syllabus has a course outline, assignment information, contacts for your Professor and TAs, course expectations and other important information.
TA
A TA is a Teaching Assistant who assists the professor with grading assignments, teaching labs or tutorials and proctoring examinations. TAs are available during scheduled office hours to assist with class material.
Transfer credit
Academic credit granted for courses completed at an institution other than Ontario Tech.
Tutorial
A mandatory class that supplements learning in lecture. Tutorials provide additional information and allow for practice and observation in small groups. Tutorials are led by Teaching Assistants.
Undergraduate
A student studying for their first university degree at the bachelor level.
University Works
Campus employment run through the Student Awards and Financial Aid office.
UOITnet
Your personalized Ontario Tech email address. All important, personalized student communications are sent to you through this account.
A full List of terms can be found in the glossary section of our 2016-2017 Academic Calendar