One form of experiential learning in the Faculty of Engineering and Applied Science (FEAS) here at the university is a co-op or internship! Let's go through what these mean, what they entail, why you should consider completing one, and look at some real student experiences.
To get more information about this program and to hear from more students about their experiences, visit the new and shiny FEAS co-op and internship website.
What is the co-op/internship process in FEAS?
As mentioned in my previous blog all about co-ops, internships and placements, a co-op is a paid, four-month placement at a partner organization (you are able to complete a few back-to-back), and an internship is a 12 or 16-month paid work placement.
In FEAS, students can complete a paid work placement lasting anywhere from four to 16 months. Students can apply for an internship while they are in their third-year, and they can apply for a co-op starting in second-year. Due to restrictions that come with a Visa, international students are only eligible for a four-month co-op in the summer.
Students that are in good academic standing with a minimum cumulative GPA of 2.3 are eligible to apply for the program. Once your application has been accepted, you may begin applying for positions.
What will you do in the actual work placement?
As you'll see when we get to our student testimonials, there are a lot of different types of jobs you can get when completing a co-op or internship in the engineering program. No two students will have the exact same experience, and different work sites will come with different tasks.
What all of them do have in common though, is that these are full-time paid positions. So, whether you're completing a four-month summer co-op, or doing a 12-month internship, you will be earning competitive wages while working full-time hours!
What do you gain from the co-op/internship experience?
There's a lot that you stand to gain if you're interested in participating in a co-op or internship in the future, and some things that are unique to the engineering program.
A work placement, like a co-op or internship, provides you with the opportunity to apply practical concepts learned in class. In doing so, you are gaining new skills and strengthening ones learned at university. This also means you're getting valuable experience in your field and you can learn what the role of an engineer is actually like in a real job setting.
A major upside of completing a co-op or internship in FEAS is the money you can earn from this. Full-time work with competitive wages can help you pay for your education. Having completed this may actually help you get a higher salary when you're starting your career after graduating.
A work placement also provides networking opportunities, where you can connect with industry professionals and potentially use those connections to help you get a job later on.
What's unique about internships and co-ops in FEAS is that you can get up to 12 of the 48 required months for Professional Engineers Ontario (PEO) licensing (becoming a professional engineer or getting your P.Eng)! So you can begin working towards your professional licensing before you even graduate.
Now let's hear from students about their experiences in their co-op/internship placements.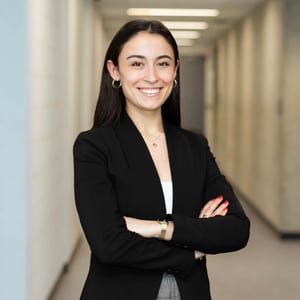 Payton Sainsbury
Electrical Engineering, third year
Payton is a third-year Electrical Engineering student completing a 16-month internship at Ontario Power Generation (OPG) as a design engineering intern in the Nuclear Waste Design Engineering division.
In this role, Payton works to resolve design issues that come up within the three waste storage facilities at OPG. Some tasks that she completes in her role include preforming voltage drop calculations, technical analyses, and she even has had the chance to get some management experience!
Payton has also been able to apply her theoretical engineering knowledge in her role, such as instrumentation and control. She found the training and support offered by her team to be very beneficial, and she has learned so much about the nuclear industry.
She says that the internship process (writing a resume, applying, interviewing) and being in her role has really helped her come out of her shell.
Being a woman in a male-dominated field, she often deals with stigmas and stereotypes that make her feel intimidated when taking on new opportunities. She has learned to speak up for herself and try things that might scare her, because that's where growth comes from. Payton says by learning these lessons in her internship, she feels she will be more likely to take more risks in developing her career in the future.
Aidan Bilyea
Mechanical Engineering, third year
Aidan is a third-year Mechanical Engineering student, with a specialization in Mechatronics, completing a 12-month internship at General Motors (GM). Throughout his internship, Aidan gets the chance to switch roles a few times to really allow him to get a well-rounded experience.
Currently, he is a maintenance group leader. In this role, Aidan manages a team of employees, executes safe work practices, tracks quality issues, escalates problems while engaging in root cause analysis, performs administrative tasks and much more!
He has learned many skills in his time as an intern at GM, including effective communication and management skills like building workforce planning requirements. He has also learned the proper safety techniques that are utilized in a manufacturing facility, and how to work in a unionized environment while gaining conflict resolution skills and working in a team. Aidan has also been able to apply practical engineering techniques he learned in the classroom.
This position at GM has helped him understand an engineer's role in a manufacturing facility, gain experience problem solving in a fast paced environment, as well as establish effective communication skills in a professional manner through report writing to a target audience.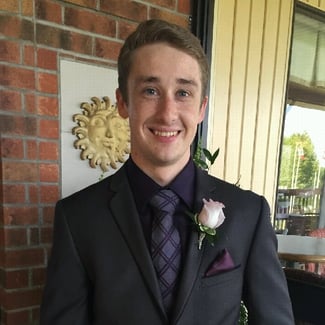 Mark Clarkson
Class of 2016
Mark completed an internship at Celestica during his time as a Mechanical Engineering student here at our university. Mark's role was as a manufacturing engineering intern in the Aerospace and Defense Division where he manufactured circuit card assemblies.
In his intern role, Mark performed tasks like analyzing engineering drawings, performing product inspections, interacting with customers, assisting transferring a new product line onto the manufacturing floor and more!
Mark really felt like he was a part of the engineering team, and more than just a student during his placement. He learned about real-world applications of the engineering profession, the importance of the engineering knowledge he gained at school, as well as ethics and how these things contribute to your work.
He says his internship allowed him the opportunity to gain valuable engineering work experience that counted towards his engineering license, as well as gave him the chance to prove himself as a hard-working, self-motivated employee for networking potential.
Mark's work ethic was recognized by his manager, who invited him back as a student-on-call, and he was offered a full-time job at Celestica after finishing his degree!
Now, three years later, Mark is working at Celestica as the lead Manufacturing Engineer on a customer account, as well as leading the qualifications of new processes and equipment.
---
Hopefully now you can see what is possible for you if you participate in the co-op and internship program in FEAS.
We saw the stories of two excellent students currently doing internship placements, and we got to hear from an alumnus who has found great success because of his hard work during his internship.
These are just three of many, many opportunities that can be available to you through this program.
Read more about our student success stories from the different faculties!
Want to find out more about FEAS? Download our viewbook to learn more about the programs and opportunities in this faculty.