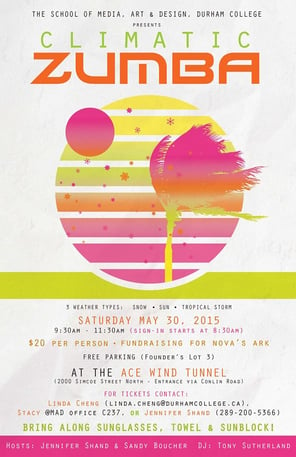 Dancing, sun, fun and… SNOW?! That's right, on May 30th put your dancing shoes on and come participate in Climatic Zumba!
Zumba is a unique dance fitness program encouraging healthy active living through fun, non-traditional exercising. Often referred to as a party, Zumba has brought together thousands of people in countries world-wide who wish to lead a healthier lifestyle. The School of Media, Art and Design at Durham College has decided to incorporate this exciting activity in their fundraising initiative for Nova's Ark, while giving students and community members the opportunity to experience the Automotive Centre of Excellence (A.C.E.), here at Ontario Tech University.
The event takes place between 9:30 a.m. and 11:30 a.m. on Saturday May 30th, and it costs $20 to participate. During this time, participants will get to experience three different weather types (sun, snow and a tropical storm), simulated within A.C.E. All proceeds from ticket sales and donations will go to Nova's Ark to support people of all ages and abilities in learning through activities with animals. So grab your water bottles, bring along a towel and of course, don't forget your sunblock and get ready for an amazing day of fun, sun, snow and rain! See you there!
For tickets contact Linda Cheng at linda.cheng@durhamcollege.ca or call Jennifer Shand at 289-200-5366.