When you move away from home or you're commuting to school, it's essential to find spots that you're able to hangout, relax or study.
At Ontario Tech University, there are many cool spots both inside and out.
Now if you are like me, I appreciate the warmer weather and like to take advantage of being outside as much as possible before the cold weather comes.
Outdoor ponds
First off, on campus you can find a few little ponds. Being by the water is so relaxing, a good place to study or maybe get your tan on. You can see in the photo that there is a picnic table right on the water.
This spot is located on the west side of Champions Avenue, right behind (south of) the Ontario Power Generation Engineering Building.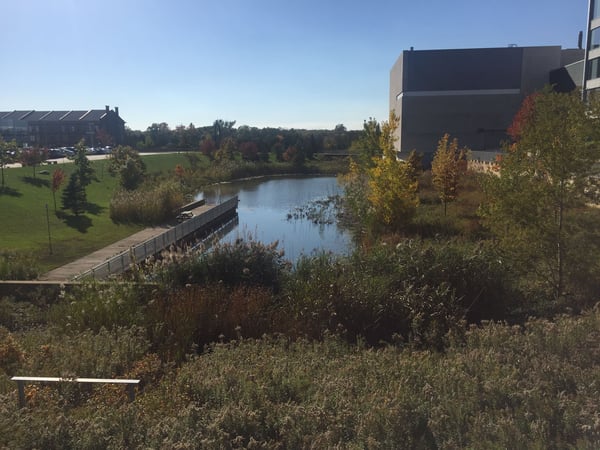 Rooftop patio
Next up, we have another outdoor space, a rooftop patio featuring some lovely sunshine and those campus views.
This balcony wraps around the second floor of the Business and IT Building (UB), located on Founders Drive.
You have a great view for people watching, and a quiet space to get some work done, or maybe have a lunch break and a breath of fresh air. Check out the pictures of the balcony from two different angles. One side of the balcony is east facing and one is south facing, just in case you like fresh air but don't love those UV rays.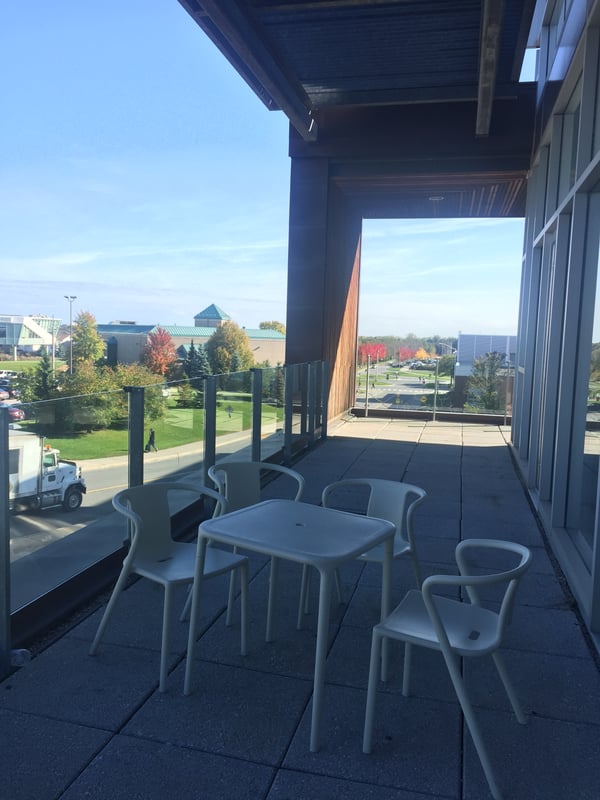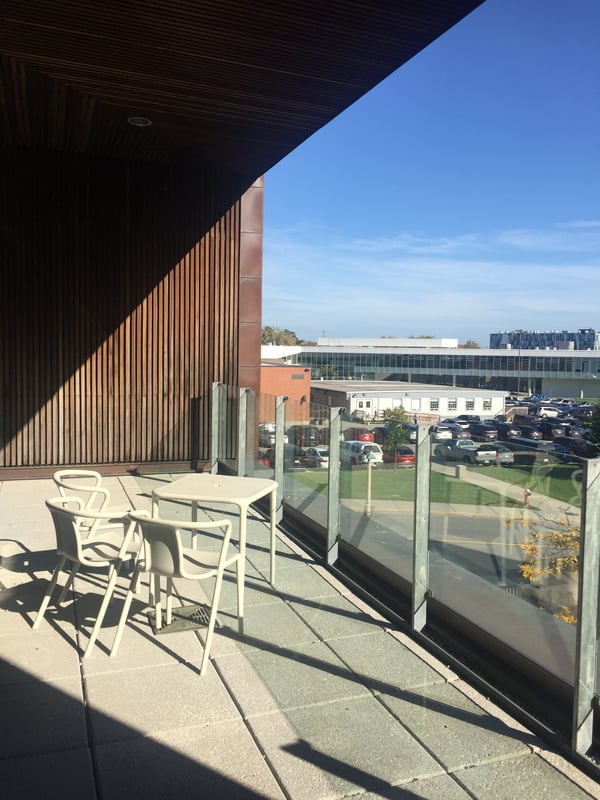 Polonsky Commons
I am noticing a trend: I clearly love sunshine. Another spot with the perfect study views. This little pond on campus is located in Polonsky Commons, named after the university's founding president, Dr. Gary Polonsky.
It is just behind (south of) the library at our north Oshawa location. Pop a squat in those Muskoka chairs, cup of coffee in hand, little City and Colour playing in your headphones...sounds like the perfect afternoon to me.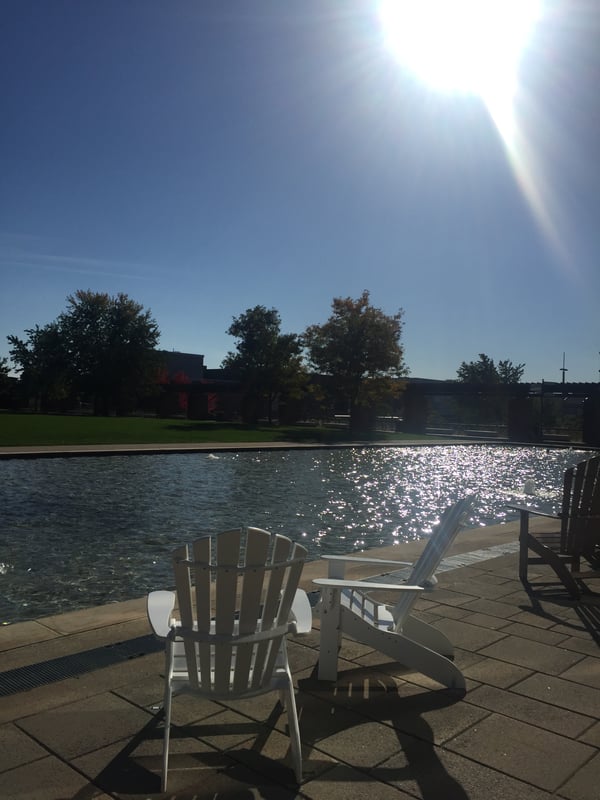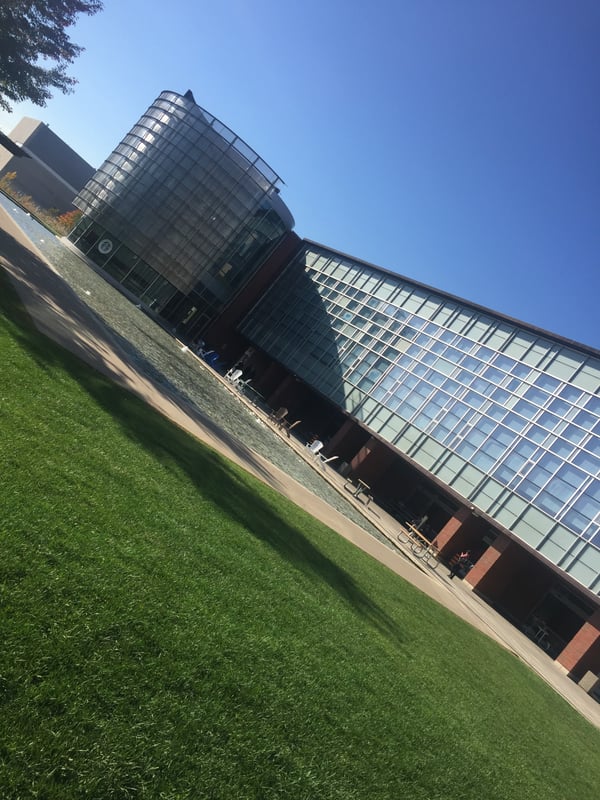 The north location library
Another spot to check out is located in the library at our north campus location. Make your way up to the second floor and you will find the most cozy, perfect spot for reading, studying or a nice break. There is even a fireplace!
I think I am attracted to all of the natural elements, water, fire, fresh air. Anyways, this reading room will make you want to curl up with a cup of tea and get your study on.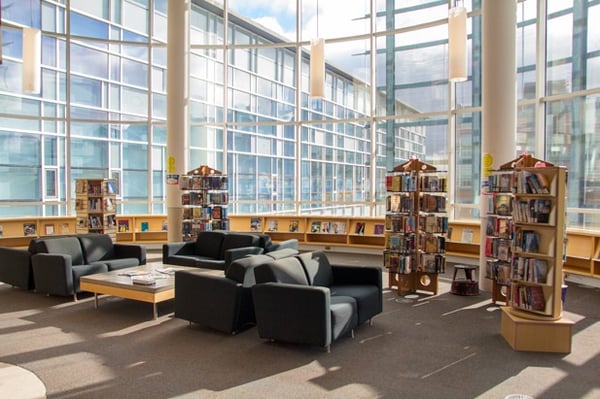 61 Charles
This spot has some great architecture: the beautiful red brick walls, great big windows and very comfy chairs. This is located in the Charles Street building on the main floor.
This cozy nook is perfect for break time or preparing for class. It is also located very close to the Tuck Shop, where you can find some delicious snack foods which can be essential for studying.
There is also a door just to the left of the tuck shop that leads outside to another lovely outdoor work space.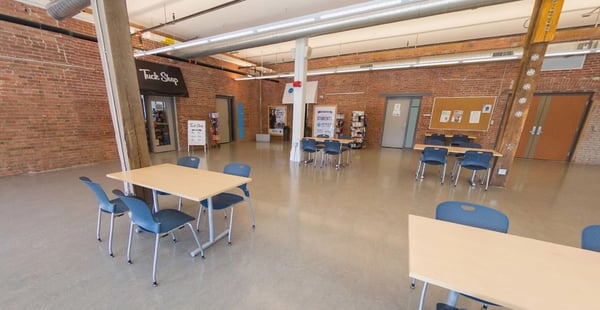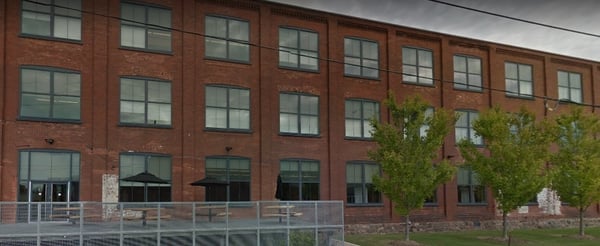 How awesome are these beautiful spots on campus? Not to mention the perfect way to step up your Instagram game with some very worthy photo locations.
If you have trouble with directions like myself, check out this online map of the university campus to find these awesome spots.
When you're hanging around campus in some of these great spots, check out this blog post for some of our university life hacks.
Let me know below what your favorite spots on campus are in the comments below!
Want to see these spots for yourself? Check out our virtual campus tour!