Final exams are here and I wish you all the best of luck, but finals also mean that a break for the holidays is coming! Today, I review Avanti Trattoria, a sit-down Italian restaurant in downtown Oshawa at 17 King Street East – right across from the Regent Theatre. They have great meals at great prices for students given the upscale atmosphere and quality of the place. But before I get into my review of Avanti – if you did not have the opportunity to read my last blog, I checked out a new downtown sports bar: 15 Sports and Grill!
I went with some friends to Avanti to do the very important research to be able to write this blog, so I had the opportunity to try three different dishes. I opted for the Panino al Polpette – it had Italian meatballs, peppers, onions, mozzarella and tomato sauce – and it is most definitely enough food for one person. Delicious! The meatballs are gigantic, and the whole thing is toasted so the cheese melts in that perfect way over all the other toppings… I should have ordered a second to go for later, or I may have to make another visit after finishing this blog.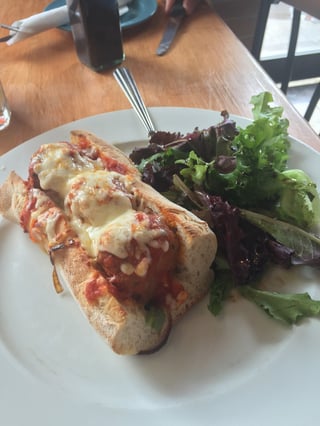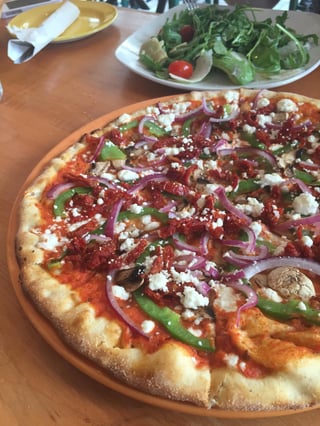 My friend opted for the pizza – she chose the Cacciatore, a thin crust pizza topped with green peppers, mushrooms, onion, sundried tomatoes, goat cheese and tomato sauce. It looked delicious, so I had to try some for the sake of science and it was very good. They cook their pizza in a wood-fired oven, so it comes out nice and crispy. They also have a variety of pizzas available, with toppings ranging from artichokes to pesto to smoked salmon! Yes, you can try smoked salmon on a pizza. It's been added to my list of things I must try, so feel no shame in doing the same. The pizzas are also relatively large, definitely enough for one person to walk in hungry and roll out full!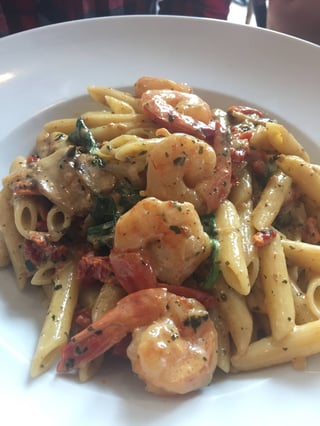 The last dish that I had the opportunity of trying was a pasta, so I definitely hit all the bases with the trifecta: a panini, a pizza and a pasta! This pasta was my friend's creation, as she added shrimp and seasonal vegetables to penne. The shrimp were great, the sauce was wonderful and they give you a large amount of pasta, so you will not leave hungry. There is a variety of pasta types available, whether you want rigatoni, or fettuccine, penne or the classic spaghetti. Couple this with a variety of sauces (tomato, pesto, basil, etc.) and you have quite a few options for your pasta.
Avanti is definitely a spot I would recommend checking out. You can have an affordable night out, as it is a sit-down restaurant with fair pricing. If you are a fan of Italian food, even better, as they offer an authentic menu with a vast variety of options. The paninis are definitely my favourite, but they are only available before 4 p.m. so if a panini is what you have in mind make sure that you go for lunch!
So with that, good luck on your exams, enjoy the holidays and I will see you guys in the New Year! What should I start the 2016 edition of the blog off with? Comment with your suggestions below!