Happy Friday future Ridgebacks!
As we've discussed before, the best way to choose a university is to visit the campus! There's just something about feeling at home on campus that will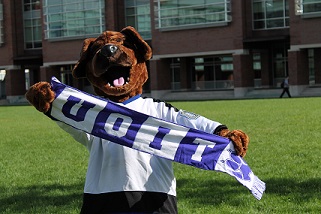 reassure you of your choice!
I knew that Ontario Tech was the place for me as soon as I saw all the space where I could play fetch. Also the tour guides take me on lots and lots of walks. Those were all the reasons I needed to choose Ontario Tech but I've been told that students need a bit more than that.
That's why I hope you come to our Open House on Saturday, November 7! Here's some of what will be waiting for you:
Meet our deans, faculty members, staff and current students.
Attend faculty- and program-specific sessions.
Go on campus, residence and lab tours.
Attend financial aid information sessions.
Chat with our admissions team.
Get yourself some Ontario Tech gear!
Play fetch with me in the Polonsky Commons!
Well, the recruitment team said that they're "thinking about" that last one. But I'm sure they're just thinking about an exciting way to tell me "yes", right?
Anyway, see you on November 7!
This week's gift card winner is Hayden S. from Cayuga Secondary School. Hayden, you have until Tuesday, October 27 at noon to email us at futurestudent@uoit.ca to claim your prize!